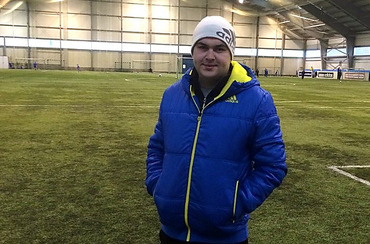 In this country everything is on sale, and everything is bought–powers, positions, criminal cases…We should be convinced of it every day in increasing frequency. Especially easily such «trade» it is conducted at people whose relatives sit at high positions tight and can if that, «to cover» and «to secure».
So-called «family clans» in structure of law enforcement agencies for us, in fact, for a long time not news: fathers arrange or promote employment of the children, nephews, kumovy on «good places» , therefore hereditary families of judges, prosecutors, militiamen appear. In it, in fact, that is also not present anything bad–there are families of hereditary teachers, doctors, engineers and so on.
But there is nothing bad in it until these family relations don't begin to be used for realization of the mercantile interests when the fact of stay «the» in various bodies promotes free illegal and unpunished enrichment of the family using the powers for earnings.
All of us remember the Nikolaev family Rudyakov and what I have ended withhistory of it «family judicial clan» . Something similar, one may say, happens today and to one more Nikolaev family of judges - prosecutors - militiamen.
Pavel Olefir, speak, knows all city of Bashtanka of the Nikolaev area. From 2009 to recent time he worked in Bashtansky regional department of militia (now polices) the Nikolaev area at a position of the senior operative of criminal investigation department. It would seem, the place not most «large» - as speak in bodies official language–position «average administrative board». However, judging from the fact that locals tell, Pavel Olefir's position in Bashtanke can be considered much higher, than the chief of regional department.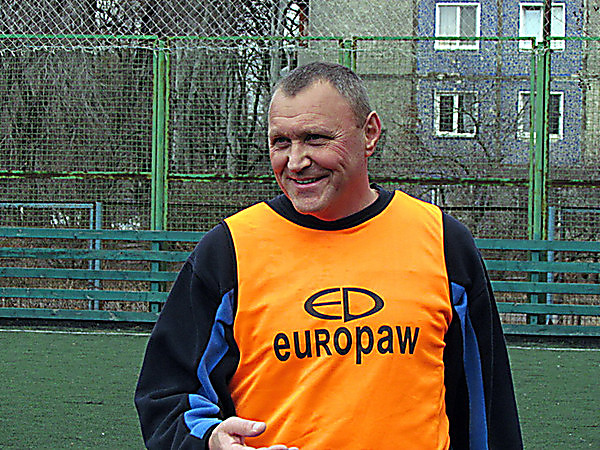 Perhaps, so it happened just because the native elder brother of Pavel Olefir Maxim Olefir worked as the deputy chief of department of the procedural management when carrying out pre-judicial investigation of Prosecutor's office of the Nikolaev area by law-enforcement bodies until recently, and today - the prosecutor of the Nikolaev local prosecutor's office No. 1, and their father Nikolay Olefir is many years the head of Leninsky district court of Nikolaev.
History No. 1: The offer of a bribe, a past by prosecutor's office
The first mention of Pavle Olefir in the press happened in April, 2015. Then the inhabitant Bashtanki Maxim Timoshenkov accused of stealing of three cars, I have declared, that police officers Nikolay Zhelezny and Pavel Olefir under the leadership of the chief of the Bashtansky District Department of Internal Affairs Oleg Makovsky have taken from him 1 thousand 200 dollars for to making him responsible.
According to him, Nikolay Zhelezny who was at that time the chief of investigative department of the Bashtansky District Department of Internal Affairs personally has taken from him money allegedly for gasoline ton for law enforcement agencies, having promised that case against him will be closed. However, matter in a result has been sent to court then Zhelezny, according to Timoshenkov, demanded from him money for «still more than oncesolutions of a question» with prosecutor's office and court–he has given 500 more dollars to the investigator. However, Appellate court of the Nikolaev area «I have given» the car thief is 5 years old of imprisonment–the man has submitted the cassation.
At this time, as he speaks, Pavel Olefir who has begun to him to offer for 1500 dollars «has addressed his fatherto close a question» , as his father works in court. Olefir suggested to pay that in Kiev the Supreme Court has returned business back in Nikolaev, and here supposedly will already be to resolve an issue as easy as shelling pears.
Timoshenkov has also provided an audio recording of conversation of his father with Pavel Olefir. On record it is heard as the voice similar to Olefir's voice says that all this business his acquaintance that can solve the most important–that business was returned to Appellate court of the Nikolaev area.
«I decide that he was now returned, and there will already be no–problems you approach, you speak. Even if it will get to Rzhepetsky, (to the chairman of Appellate court of the Nikolaev area), then there problems won't be.If you have told me earlier when Homik (the judge of Appellate court) had it…I so understand, «solved» to you in the area, in the area didn't solve?» - tells the voice similar to Pavel Olefir's voice.
As a result of anything not «have solved» - it is so much money how many different militia employees demanded from them, at them wasn't. And in conversation with Olefir Timoshenkov's father already said that them it is constant «throw» - money takes, and the case «doesn't decide».
After the publication of this information the prosecutor of the Nikolaev area Vyacheslav Krivovyaz initiated functional audit check in this occasion–message on it prosecutor's office of the Nikolaev area I have extended still on April 23, 2015. Nearly a year later nothing is known of results of this check–whom you won't ask, nobody knows who has seen off her who was interrogated, than, actually, this business has ended.
Can be for this reason to us have continued «to reach» similar stories with the same «heroes» from Bashtanka.
History No. 2: «The quicker money, the quicker business will end»
At the beginning of April, 2015 the owner of service station in Bashtanke Sergey Ivanishin, the brother of the father-in-law Pavel Olefir, has told the acquaintance Alexander Bozhko that he heard, as if on him have opened criminal proceedings for death of his neighbor Sergey Matyushenko.
According to Alexander Bozhko, on April 3 he has really squabbled at the neighbor at home, but it couldn't become the reason of his death in any way especially as he has died on April 6, before still ездив by bicycle for work.
Alexander Bozhko, inhabitant city of Bashtanka of the Nikolaev area

- I was surprised, I speak–the matter is that I am not involved in it. I had a conflict with him on April 3 and, really, I came to him, we have talked, but I didn't beat him with legs, have given a clip, have sworn a mat and have left, - Alexander says.
After that at the request of Ivanishin to him on HUNDRED for conversation with Alexander there has arrived Pavel Olefir. The last has told that really there are witnesses who confirm that at Aleksandra there was a conflict with his neighbor, and also the judgment that Matyushenko's death was caused by his beating.
- We left to the yard where he (Pavel Olefir) has told: «Paragraph 30». It means 30 thousand hryvnias. And the question as it has told, will be closed supposedly we will connect the chief, the prosecutor and the forensic scientist.The quicker money, the quicker business will end, - Olefira the inhabitant Bashtanki has quoted.
At the same time Sergey Ivanishin as Alexander speaks, has confirmed to him that Pavel «it is accepted in offices» and that he «can resolve an issue, it in his forces».
Alexander had no–such money at home there were only 3 thousand hryvnias. 7 thousand more he «I have gathered». Meanwhile, to him have advised to address the lawyer.
- We will defeat this business utterly as between day of your visit of the neighbor and day of his death there have passed 3 days, - the lawyer then he has advised to write down the subsequent conversation with Pavel Olefir on a bribe on a dictophone has told Alexander.
Such meeting has taken place–and not one. According to the inhabitant Bashtanki, Olefir called him nearly every day, saying that «raise quicker money until business has come far».
Then Pavel has arrived home to Alexander where in the yard I have told him–why you have addressed the lawyer supposedly it will only interfere with business.
- I call the lawyer, and that speaks to me–I was called from prosecutor's office and have told that I wasn't engaged in your business, - that has answered.
As a result of April 15, 2015 between Alexander Bozhko and Pavel Olefir the meeting has taken place–Alexander has borrowed missing 20 thousand hryvnias at the companion.
- I drive by the car, he on the. I open a glove compartment, I get a package–there were 4 packs on 50 hryvnias. Pavel has taken them then has told: «During couple of days I will bring the resolution on solution of the case». On it we have parted, - bashtanets has told.
In Olefir's car by which he has driven on a meeting according to Alexander, there was one more police officer–dense constitution and with a fair hair. Already mentioned investigator of the Bashtansky District Department of Internal Affairs Nikolay Zhelezny approaches this description–according to locals, they it is regular «shine» together with Pavel Olefir.
On the expiration of two days from Olefir there was no answer. Alexander has called him–Olefir has told to go to regional department to the investigator Stepanova to take away from her the copy of the resolution on solution of the case.
- I come to the District Department of Internal Affairs, I find Stepanova, I speak: «I was told that case was closed that you will give the resolution». And she says that nobody closed case. I go to Yashchenko.He speaks to me–what do you run here? I speak - Olefir has told me that I have arrived visors the resolution on solution of the case. «What closing? Business here on a table, we wait still for in addition regional examination». Generally, have parted me as boy, - Alexander says.
Pavel Olefir has ceased to contact. Alexander has decided to call his father-in-law–To Alexander Ivanishin supposedly his brother «I have reduced» him with Olefir, and that «I have thrown» on money. How the inhabitant Bashtanki speaks, has promised everything to find out, to talk to the chief of the District Department of Internal Affairs Yury Lostik, and has asked to call back in two days.
- I call him, and he answers: «Don't call me, all claims to Pasha more, address where you wants».
As a result Alexander Bozhko has decided to go to the chief of Bashtansky regional department of militia Yury Lostik to whom I have told that he has given 30 thousand hryvnias to Pavel Olefir for closing of criminal proceedings, and also has given record of part of their conversation where there is a speech about it. The chief has told to contact him after May holidays therefore has told: «I can't work on him (Pavel Olefir), write the application».
It was also made by Alexander Bozhko on May 2, has given explanations to the police officer. And in literally 6 days, on May 8, I have received the written answer in which have refused to it opening of case on receiving a bribe by Olefir.
- Witnesses of transfer of money weren't, there are no receipts on receiving money, Olefir P.N. denies this fact. On the basis of stated and considering that in this situation there is no corpus delicti, this fact wasn't entered in the Unified register of pre-judicial investigations. Also we explain to you that you can appeal to court concerning collecting money, - it is said in the answer of the militia lieutenant colonel Yury Lostik.
At the same time, after a while from police officers Alexander Bozhko learns that the criminal proceedings upon Sergey Matyushenko's death are closed–examination has shown that cancer which he suffered lately became the reason of his death.
- It has just turned out that I have appeared not in that place, not at that time, - Bozhko has noted.
The man suspects that Pavel Olefir initially knew that he has no relation to death of the neighbor that is simple - напросто has solved «to part» him on big money that successfully I have also made.Meanwhile, the inhabitant Bashtanki asks a question–from where Olefir, without being an investigator, in general is it is aware of criminal proceedings, their course and nuances supposedly couldn't do without other police officers.
Alexander Bozhko didn't manage to return the money. He filed a petition in prosecutor's office, on which have even opened criminal proceedings, but on that all also has ended - Alexander was interrogated, and silence. As have reported in a press - service of Prosecutor's office of the Nikolaev area, the criminal proceedings on the bribe given to Pavel Olefir have been closed on October 25, 2015 «due to the lack of corpus delicti».
History No. 3: Road accident, in which Olefir - at all not Olefir
It is characteristic to how to Pavel Olefir all «escapes punishment» , the road accident which has happened on May 10, 2015 in the center of Bashtanki. About 19:30 the car «Volkswagen» green color on crossing of streets of the Bashtansky republic and Poltava «I have taken off» to the sidewalk, I have brought down a road sign and I crashed into a poplar. Driving the car, according to numerous eyewitnesses, there was Pavel Olefir who is in a condition of strong alcoholic intoxication.
- He has jumped out of the car, at once has begun to turn off numbers by car. And in 7 minutes I look, his car is carried on the tow truck, the father-in-law (Alexander Ivanishin) brought it to the car repair shop. There has arrived the car - the tow truck, they (Olefir's car) have shipped it and have brought to station. I didn't see GAI, - the inhabitant Bashtanki who has wished to remain not called tells.
According to him, it was clearly visible that Pavel was strongly drunk. Many people began to film the events with cameras of the phones then Olefir began to shout that they have stopped doing it. At the same time behind all this as the inhabitant Bashtanki speaks, three police officers who have undertaken nothing observed.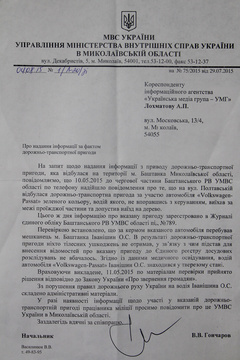 Whether it is surprising, but as a result of any responsibility for driving of the car in a state of intoxication, and also for commission of road accident in the downtown–by miracle only Olefir over anybody hasn't run–the militiaman hasn't incurred. Vitaly Goncharov, at that time the head of department of the Ministry of Internal Affairs of Ukraine in the Nikolaev area, and today the deputy.the head of the Nikolaev police, in response to our inquiry, I have reported that driving the car there was any not Pavel Olefir, and…Alexander Ivanishin, his father-in-law who has quickly come to take away the car from the place of road accident and to bring him to HUNDRED to the brother.
- By check it is established that driving the specified car the resident Bashtanka Alexander Ivanishin stayed. As a result of road accident nobody has got injuries in this connection the bases for introduction of sheets about the specified incident weren't provided in ERDR. According to data of medical examination, the driver of the car «Volkswagen-Passat» Alexander Ivanishin was in a sober state. For violation of the rules of traffic on the driver Ivanishin administrative materials are made, - Vitaly Goncharov has declared.
Tens of people with own eyes saw how drunk Pavel Olefir «gets out» from the car crashing into a tree, and at Goncharov Olefir–this is Ivanishin. It, appears, quite perhaps. By the way, a tree as Bashtanki's inhabitants have told, have quickly whitewashed next day to hide accident traces, and have restored a road sign, having filled in with cement.
It would seem why to the chief of the whole regional government of militia «to stand up» for some operative in the regional center? In fact to set up ourselves, having received from us inquiry in which the surname of Olefir has been specified, he had to understand that we know who actually was driving the car and in what state.
History No. 4: The detention - doesn't mean attraction
On November 6, 2015, in the last day works of the Ukrainian militia (the Law of Ukraine has come on November 7 into force «About national police» ) the same «couple» Nikolay Zhelezny and Pavel Olefir, at last, «have got» on the next extortion of money for closing of criminal proceedings. During their detention have found in Pavel Olefir's car and have withdrawn 4 thousand dollars papered–they have received this money for not accountability of the local for hemp cultivation.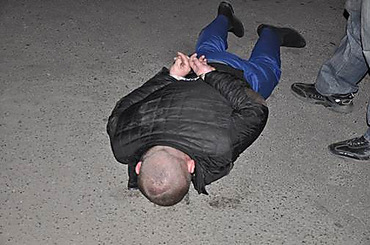 Having learned about it, we, knowing already «rich» history of Olefir and his companion Zhelezny, have thought–well everything, final. But, as it has appeared, the final has overtaken only one person involved in this case–Nikolay Zhelezny.What our surprise when the SBU and prosecutor's office in couple of days after detention declared that the bribe was got only by Nikolay Zhelezny was, and Pavel Olefir, appears, just gave a ride to him by the car to the briber and hasn't noticed a pack of dollars between seats at all.
If on November 6 on the official site of the Department of MIA of Ukraine in the Nikolaev area leaves message that the staff of SBU and prosecutor's office at interaction with representatives of service of internal security in the Nikolaev area has detained «on hot» both militiamen, which «in the last day stay on posts, promising the person involved in criminal proceedings to help to avoid responsibility for commission of an offense, have earned illegal reward, having estimated the «service» in 4 thousand US dollars» , already on November 9 Prosecutor's office of the Nikolaev area reports that «I have taken away» in court for election of a measure of restraint only Nikolay Zhelezny–about Olefire in the message of prosecutor's office already words.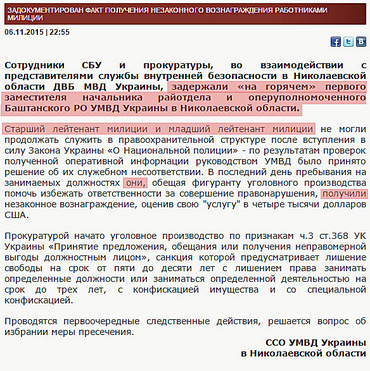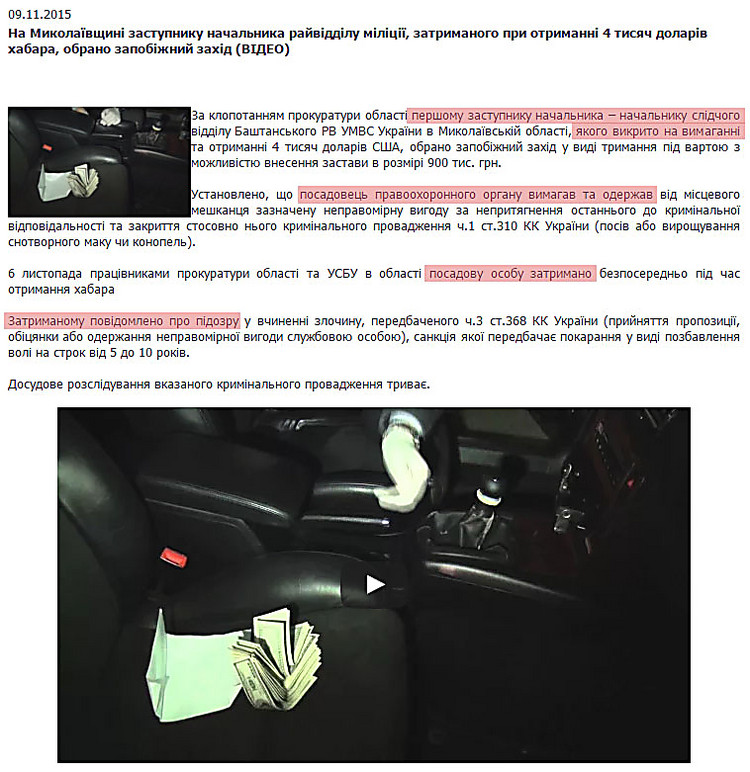 laterbriefing on November 10 the first deputy prosecutor of the Nikolaev area Artur Shapovalov began to declare that yet the prosecutor's office has no bases to consider that Pavel Olefir was in collusion to Nikolay Zhelezny and it is involved in this bribe, and therefore «passes» on business already as witness.
- At the moment participation of other person who was in the car in the specified crime is checked by bodies of prosecutor's office. Because there was no information on that earlier, two of them extort illegal benefit. Only the head, one of heads of the Bashtansky District Department of Internal Affairs extorted (Nikolay Zhelezny). We in the activity appeal proofs and codes. If there would be enough bases for what to bring to this person charge, suspicion, then it would be shown. We can't show just like that suspicion, and then, sorry, the court will pronounce the verdict of not guilty, and we will bear responsibility for it…These are destinies of people, - Shapovalov assured.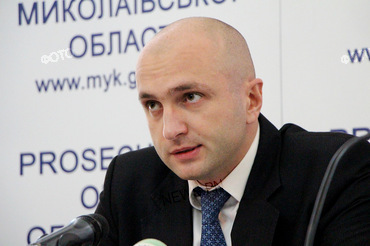 At the same time he has confirmed that during detention Nikolay Zhelezny and Pavel Olefir were in the car together.
- But we have initially all actions, and only one personality appears in criminal proceedings at us, - the First Deputy prosecutor of the region Vyacheslav Krivovyaz declared.
In turn, the procedural head in these criminal proceedings, the prosecutor Artem Demida, began to say that Nikolay Zhelezny words hasn't told Olefir about where they go why and so on. Like, arrangement wasn't.
- Actually during secret investigative actions we haven't established that they worked by previous concert, extorting illegal benefit. The chief of investigative department has asked his (Olefir) to give a ride to him, and hasn't devoted him in the intention. During conversation (the briber with Nikolay Zhelezny) he (Pavel Olefir) didn't take part. That the bribe was transferred he only saw. But he (Pavel Olefir) says that he didn't know that it is transferred a bribe. As we will prove his intention that it also wanted to get this bribe and that further it had to be divided between them, - Demida has told then.
Perhaps, I personally would believe in this version if only not already several similar stories about Pavle Olefire and Nicolae Zhelezn if about them all of us have heard for the first time and if the brother didn't work for Pavel Olefir in prosecutor's office of the Nikolaev area, and the father wouldn't be the long-term head of Leninsky district court of Nikolaev.
- And it doesn't depend on the fact that the father at him the judge, - Artur Shapovalov assured journalists.
Perhaps, and the truth is told by mister Shapovalov–not because, that the father is a judge, and because what the brother is a prosecutor? Here only, why then this father is a judge at once I have arrived to the place of detention then has taken away the son and has taken away him on the car «Daewoo Lanos» ? Bashtanka–small town, and detention happened in his center, eyewitnesses of it was much.
I don't know what Artur Shapovalov, Artem Demida and in principle prosecutor's office of the Nikolaev area when as competent interlocutors in prosecutor's office have told me, both the briber, and Nikolay Zhelezny in the indications openly and directly point that the leading and main role in extortion and receiving this bribe was played by Pavel Olefir counts on. Business will come to court, and these people will repeat the indications in court–and if court on above to the described reasons not «will notice» them, they will be noticed and I have heard journalists.Moreover, in spite of the fact that Shapovalov and Demida assure us that on «to wiretap» Olefir anywhere not «I passed» , my interlocutors in prosecutor's office claim absolutely back–on audio Olefir «shines in the new paragraph».
Artem Demida

- After declassification of materials of secret investigative actions, interrogation of all witnesses to establish joint intention (Nikolay Zhelezny and Pavel Olefir) on obtaining illegal benefit and we couldn't confirm it with proofs, unfortunately, at the moment, we didn't manage, - I have complained at the scheduled briefing prosecutor Artem Demida.
Also it was reported that the staff of department of internal security of the Nikolaev REGIONAL REGIONAL DEPARTMENT OF THE MINISTRY OF INTERNAL AFFAIRS several times during 2015 gave materials on Pavel Olefir to prosecutor's office, however there business didn't move a little in any way. «And it doesn't depend because that the father at him the judge».
After Olefira kindly «have removed» from the specified criminal proceedings, it was also kindly again employed now in police–new, honest, transparent. Now Pavel Olefir–the operative of Kazankovsky office of Novobugsky regional department of police of the Nikolaev area whose chief is the same Yury Lostik, ex-the chief of the Bashtansky District Department of Internal Affairs of times of militia.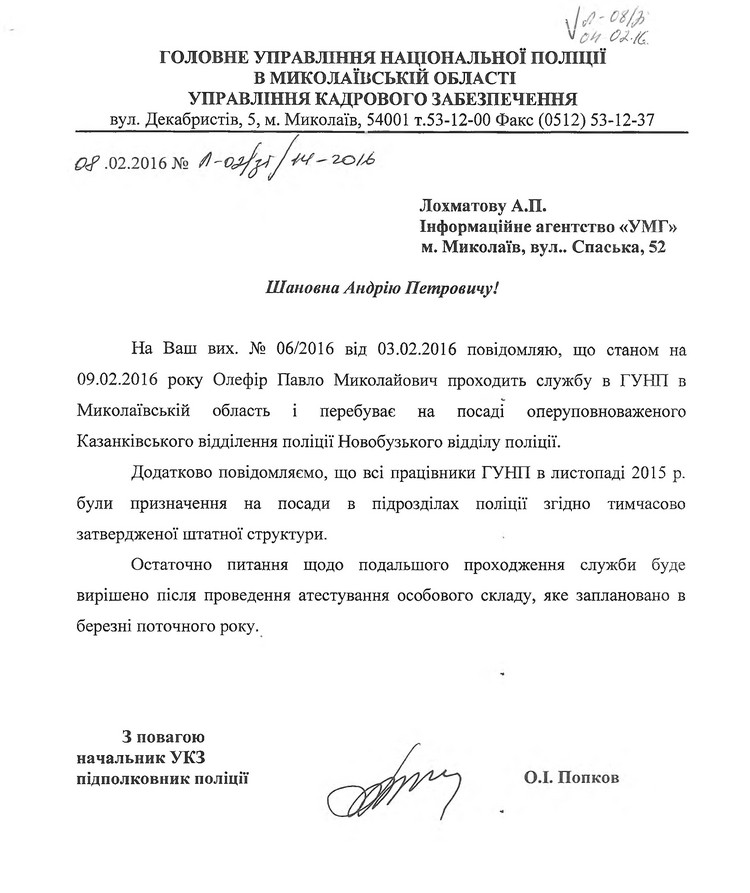 And all this while itself Nikolaev REGIONAL REGIONAL DEPARTMENT OF THE MINISTRY OF INTERNAL AFFAIRS all about detention Iron and Olefira specified on November 6 in the same message that «the senior militia lieutenant and the police second lieutenant couldn't continue to serve in law-enforcement structure after entry into force of the Law of Ukraine «About National police» - by results of checks of obtained operational information the management of Regional Department of the Ministry of Internal Affairs has made the decision on their office discrepancy». Here the person manages «to work wonders» and to leave «dry of water». «And it doesn't depend because that the father at him the judge».
Today in Head department of National police in the Nikolaev area there takes place general recertification of all employees. The new police officer with «to the rich» militia past Pavel Olefir has already passed test, and on Saturday, February 27, the commission, having studied his personal record, has caused him on interview. I hope, this publication will help members of a recertifying commission to ask him the necessary questions and to draw the correct conclusions.
And meanwhile, it is sure, the same questions need to be asked still to a number as the bashtanskikh, and the Nikolaev law enforcement authorities–former and the Bashtansky regional department of militia operating chiefs - police to Oleg Makovsky, Yury Lostik and Ivan Zhuk, the brother ex-the People's Deputy from Party of Regions Nikolay Zhuk. The last, by the way, as one my interlocutor in police speaks, before detention Iron and Olefira has sent to Pavel SMS - the message in which he warned him «to look around». Well it is obvious that at least many were aware and as at most–and took part, both on cover, and on the feasible help in «to development» the victims for «divorce».
And if «reformed» the prosecutor's office was reformed in fact, but not on paper if the law-enforcement system wouldn't remain system of communications, family clans, sale and purchase of criminal cases, then, probably, it wouldn't be necessary also any recertifications–representatives of system, not pure on hand, despite all the «communications» , it is simple «were eliminated» by hit in prison, but wouldn't continue to be enriched, using the positions and powers.
And even if at least this one concrete story about a concrete family will remain such as is if Pavel Olefir everything is once again will leave «dry of water» , if on all to the read facts there is no reaction then it isn't worth a pin for all these reforms if the father is a judge or the brother is a prosecutor and will remain a permissiveness guarantee in our reality. Which is generated, as we know, by impunity.
P.S. On all specified episodes Pavel Olefir has refused comments. I have addressed him through the head of department of communication of Head department of National police in the Nikolaev area, having referred matters. He has answered that he is ready to speak in all described cases, but only after judicial review of the last ends.
Andrey Lokhmatov, especially for «Crime. Is NOT PRESENT»