Nikolaev yachtsmanYury Zhiradkov, on the Avers yacht, I planned to make single swimming on a route: Nikolaev - Kherson - New Kakhovka - Nikopol - Zaporozhye - Dnepropetrovsk - Dneprodzerzhinsk - Kremenchug - Cherkassy - Kanev - Kiev.
On July 18 at 11.00 Yu. Zhiradkov solemnly sailed away from the NUK water station mooring of the admiral Makarov which is located in regional yachts - club.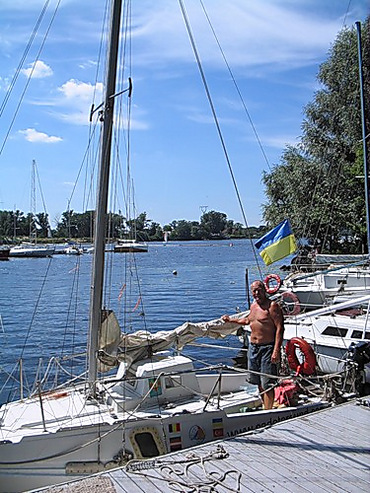 On July 20 the Avers yacht moored in Kherson where Yury Zhiradkov met the Kherson cadets.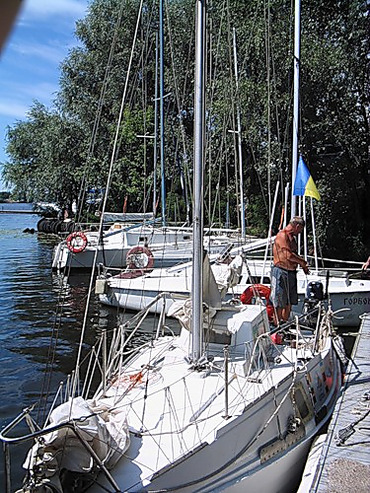 According to the yachtsman, Nikolaev - Kiev 2009 passes his single swimming successfully.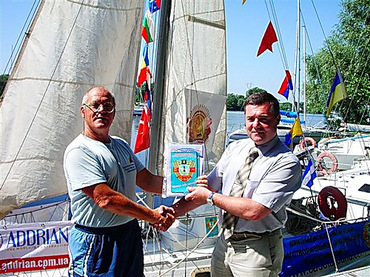 On the first of August it arrived to Kiev where met the Kiev cadets.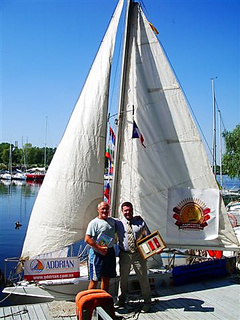 I left in a way back Kiev on August 3 at three o'clock in the afternoon. I passed the Kanevsky lock, at present goes on the Kremenchug reservoir.
To Nikolaev Yury Zhiradkov plans to return to next weekends. The yachtsman promised final date of arrival to report for some days.
About the captain:
Zhiradkov Yury Borisovich, the military pensioner, the graduate Ussuriyskogo (Kursk, Far East) the Suvorov Military School in 1968 (21 releasing), served in Armed forces of 30 years, the lieutenant colonel in the resignation, the known yachtsman of Nikolaev and Ukraine, is engaged in sailing 20 years, specializes single swimmings on the yacht.
In 2000 the senior assistant to the captain of the Icarus yacht (the captain of the yacht Nemirov Boris Stepanovich), I made swimming on a route: Nikolaev (Ukraine) - Ceuta (Morocco, Spain) - Boston (USA) - Halifax (Canada) - Amsterdam (Holland) - Ceuta (Morocco, Spain) - Malta - Athens (Greece) - Istanbul (Turkey) - Varna (Bulgaria) - Nikolaev (Ukraine).
15000 nautical miles (27700 km) in 6 months are passed.
In 2005 I made single swimming round the Black Sea on a route: - Nikolaev (Ukraine) - Varna (Bulgaria) - Sinop (Turkey) - Sochi (Russia) - Nikolaev (Ukraine). 1330 nautical miles (2500 km) in 2 months are passed.
In 2008 with