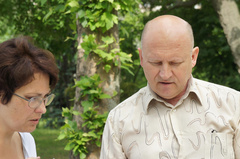 The 55-summer inhabitant смт May Day the Zhovtnevy district of the Nikolaev area Nikolay Galay, having returned from the anti-terrorist operation zone, eight months tries to prove that he has got wound during military operations, but not as have written to him in the medical certificate in the Dnipropetrovsk hospital that it is «industrial accident».
Nikolay Galay in the comment has told journalists about it.
According to the serviceman when military operations in the east of the country have begun he has come to a military registration and enlistment office with a request to take it to serve. After the answer long wasn't, Galay has made the decision to go the volunteer and has registered in a battalion «Donbass». In the summer of 2014 he has got on the front.
- Spring of 2014. All of us remember what then occurred. In each city actions which could lead to capture have begun. I as the man, the patriot, has gone have addressed in a military registration and enlistment office. I have told that I have a weapon that I not against that I did military service the Soviet sergeant. Have told to wait, and actions happened such that the army wasn't, - Galay has told.

- When I have understood that not really someone hurries to call somewhere and that all this is unclear as will end. I have gone the volunteer. At the end of July, the beginning of August I have joined a battalion «Donbass». I was in the city of Popasna, the Luhansk region. There my official report has been written and there I have received the weapon.
As the military tells, after that the battalion has been transferred to Kurakhovo, and from there has been sent for storm of Illovaysk. According to Galaya, on August 12 to Kurakhovo there came representatives of National guard and military unit 3057 to which the battalion has been attributed. Then, together with other new volunteers of Galay I have written the official report about inclusion in National guard which was taken away to Kiev.
Near Illovaysk, during a shelling, Galay has got wound of a hip. Treatment has taken about three months. The military has passed treatment in three hospitals in Dnipropetrovsk, and after that in Nikolaev's hospitals - in Salt and Oaklets.
- In October, year and two months later actually stay in anti-terrorist operation, I have got demobilize for health reasons, without having received any documents from part in which I served. Everything was necessary to do to me most. I six times went to Kiev, in division of National guard before have received the combatant. From military unit 3057 in which I served in Mariupol when I left I haven't received any references at all that there I served, - tells Galay.
At the same time he tells that his case isn't single. Also cites as an example a plot of one of TV channels on which his colleagues discuss a similar problem with obtaining necessary documents. According to the military complexity with obtaining the status of the combatant is connected with the fact that it was received by many of those who never were in anti-terrorist operation.
- Now I already understand that if gave someone, say, the combatant to those who weren't there, then to someone who was–didn't give as there had to be some quantity. And already eight months I go I try to obtain recognition that I have got wound during military operations, but not as have written to me in the medical certificate from Mechnikov that it is «industrial accident» , - considers Galay.
Also he tells that so far he was in hospital, all documents have been withdrawn.
- Documents in Kurakhovo have been withdrawn while I was treated, the official report which I wrote to military unit too are hidden. I have no documents that I was there and that during military operations I have got wound. There are only notarized certificates of my colleagues who confirm that I served there. Only on the basis of it the court recognized that it so. And here now I with this judgment continue fight against the power to receive compensation for wound and recognitions that I was there, - the military tells.
Moreover, having come back home, the military has nearly got penal for «illegal storage of the weapon».
- I have a hunting carbine, the certificate. I have bought the weapon in shop, have issued everything lawfully. When I went to anti-terrorist operation, have checked it in Zhovtnevoye of the District Department of Internal Affairs. While I was at me there this permission finished and it was it is unknown where. In the Donetsk prosecutor's office somewhere. Here against me have opened criminal case that at my place cartridges were from this carbine.Only thanks to the help of the lawyer it was succeeded to solve everything. If I continued to solve all this, then it was hardly succeeded to achieve something from me, - considers Galay.
At the moment time Nikolay Galay passes the medical examination and collects all possible references which will help him to prove that in 2014 he was in the anti-terrorist operation zone and wound, he has received not on «production» , and in a zone of carrying out military operations.
We will remind that earlier it was reported that The Ministry of Defence will change an order of obtaining the status of the combatant