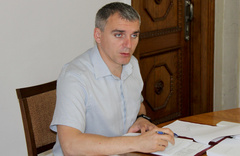 The executive committee of the Nikolaev city council has made the decision on dismantle about 300 advertizing means, the part from which is self-willedally established.
The corresponding project has been considered and accepted during the scheduled meeting of executive committee in the morning on Monday, May 30.
As it is noted in this project, it was entrusted to administrations of areas «in 10-dnevny time to perform all necessary works on dismantle».
The businessman Svetlana Rotar who is present at a meeting has asked to exclude the advertizing structures belonging to her from the draft decision, referring to judicial proceedings.
- They aren't self-willedally established, and established on the basis of not given permissions, but on these permissions all sets of documents in management of architecture have been provided. Court now finds out legality of your decision on refusal in delivery of permissions, - she has declared. - I ask to exclude from the draft decision on dismantle of the address of advertizing carriers which belong Rotar and «Rotar of gallery» , as we have filed a lawsuit and have received definitions about a ban of any actions from executive committee on dismantle.

- The law on an authorization system allows if for a month the negative answer isn't received from management of architecture, permission to consider given out. And the businessman has the right to take actions concerning realization of this permission, - Rotar has added.
However, the executive committee didn't begin to exclude anything from the draft decision. According to the mayor Alexander Senkevich, now the executive committee only makes the decision on dismantle, but doesn't make any actions forbidden by court.
- The court us doesn't oblige to do it. We meanwhile don't plan actions for dismantle, still even money wasn't allocated, - the mayor Nikolaeva has declared.
We will remind, earlier it was reported about how executive committee of the Nikolaev city council, despite arrangements of representatives of advertizing of the city, I have unanimously supported the draft decision «About refusal in deliveries permissions to placement of external advertizing in Nikolaev».