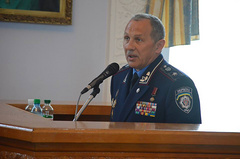 In Nikolaev the general - the major in resignation Nikolay Pykhtin has urged deputies of city council to help to keep a monument to employees of militia, the dead on duty who is found on Sadovaya Street.
It became known during his performance at the first plenary session of the fifth session of the Nikolaev city council on Thursday, June 9.
According to him, during post-war time in 46 years 78 police officers, and during independence of Ukraine 55–have died total 133 persons.
- The memorable sign opened in 1978 is a monument to law enforcement officers, the dead on duty. When we read the order of the governor about demolition…It becomes feel ill at ease because people who gave the lives during detention of the armed criminals. How to explain them to relatives that they didn't protect us, and were performers of some purpose?–Pykhtin has asked a question.
Also he has declared that the decision of the Nikolaev regional state administration concerning demolition of a monument needs to be cancelled as the legal mistake is made.
- This monument is called «Memorable sign to employees of militia» , and on the monument it is written «To the fearless soldiers, employees of militia of Nikolayevshchina who have fallen in fights for the Homeland at execution of an office debt» , - he has reported, having asked the mayor and deputies of the City Council to address the governor with the corresponding petition.
He was supported by the deputy Yury Granaturov ( «Our edge» ), having noted that this object is included into the register of monuments, nobody excluded him from there, and the Institute of national memory on this matter didn't make any recommendations.
- I consider that it is an annoying mistake which should be corrected.We can't cancel the order of the chairman of regional public administration, we have no such powers, but we can act within powers of local government and vote for the address to the governor with a request for cancellation of this decision in connection with legal norms which don't fall under the law on decommunization at all, - he has reported.
We will remind, earlier it was reported that Senkevich has opposed demolition of a monument to militiamen, which the Nikolaev RSA intends to dismantle.