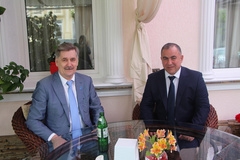 In first part of interview with cochairmen of party «Our edge» Alexander Mazurchak and Yury Granaturov we spoke about that, зachy the party «has been createdOur edge» , who represents her at the local level today whether prepare «nashekrayevets» to parliamentary elections. Also have talked on topics of the day: what waits for inhabitants of apartment houses after July 1? As far as absence of the secretary of the Nikolaev city council breaks balance of work of deputy corps and what to do with illegal executive committee?
In the second part of interview it will be a question of the relation of the former mayors to the law on OSMD (transition from ZhEKs to «To association of owners of apartment houses» ), how MAFY in Kamyanets-Podilsky was succeeded to move away Aleksandra Mazurchaka, about what the present tariff policy of the state can lead to. You learn who exactly has given the order to establish a fir-tree on the Maidan that has formed the basis for his first dispersal «Golden eagle» , and also about whether renders ex-now - the mayor Nikolaeva influence on those processes which happen in the city.
Besides that you were the secretary of the City Council, you were a mayor. Whether you had it that legislatively executive committee and structure of city council, deputies haven't been settled? Executive committee of city council in Nikolaev at the moment, he has lost any legitimacy. He continues «to work» , to make some decisions. Some oddly someone has entered him, someone left, and no votes at session existed.
Г:Not absolutely so. Nobody left, nobody entered. In the law on local government it is accurately specified that the new structure of council forms new executive committee, the mayor of a personnel brings and the quantitative structure defines. Session approves him, vote. After election of new structure of city council and the new mayor of it hasn't occurred. The executive committee remained from last convocation in full strength. Any person into structure wasn't entered. The mayor hasn't submitted structure of new executive committee for consideration of session of city council. In the law on local government it is accurately told: «only mayor».
How then in executive committee there was Olefir who conducts meetings which votes. You as being in opposition to actions of the power, you are silent about it.
Г:We aren't silent. We don't declare it publicly in mass media yet. The question of executive committee was brought up before the mayor, and we have stated him the position. I hope that soon, we will be heard and will bring staff of executive committee. Because its legitimacy, really, raises, to put it mildly, doubts.
М:The law on local government speaks also about a continuity of the power. That is, anyway, the old executive committee will operate on this territory until to appear new. It is impossible to interrupt work. It is impossible to dismiss, there will be a vacuum, and nobody will work at the territory. Therefore, it is the first question–there has to be a continuity of the power. And the second moment, a problem that the mayor has no majority in the City Council. And he doesn't submit new structure of executive committee for consideration only because he understands that by deputy fractions his candidates and then can be not supported, it turns out, he will lose face before citizens. Therefore, it is very important to elect the secretary of city council, the person who can consolidate session, and from him, is farther by methods of consultations and «shine» candidates, it is necessary to look and pick up people that at the same time, not on one person to begin to pull out, and it was at the same time possible to create normal executive committee.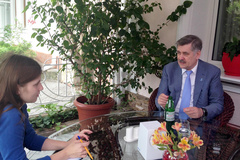 And you don't consider that at the legislative level it is necessary to change it? As now the mayor comes, forms the team, brings up deputies for vote, but if he has no majority, then he remains without adherents?
М:I consider, but it is a little in a different way. If we say that we want to pass to party system, then there shouldn't be a self-promotion of the mayor. We have to tell that the mayor has to move forward from political forces. Or, we have to go on the western model. When the mayor is elected by session of city council, then the deputy is elected people, there is majority, the coalition appears in local council, they elect the mayor, they support him. The mayor then can normally form executive committee, direct the city, and they assume overall responsibility for management of the city.Today at this system when the mayor comes the independent candidate, without having political support in council, but also if council so difficult структуризирован as in Nikolaev, then it is difficult to it to operate the city.
You have managed to do a bit of traveling around the city?
М:I was in Nikolaev earlier.
Whether you consider that there are a lot of boxes, and it is a lot of advertizing. We periodically observe conflict situations in the city, pickets in the city hall. That you have advised?
М:I don't love the box therefore when I became Kamyants mayor - Podolsk–I have demolished all these MAFY. It was very difficult at what, it has turned out that at me in Kamyanets - Podolsk some from МАФов «I protected» even deputy minister of internal affairs. It everything was very difficult. To demolish the first MAFY, I needed to make precedent. The court didn't want to make the decision on demolition. I as the head of civil defense, have signed the order on staging drills: «MAFY» burn and in this regard to take out them from the city. At 5 o'clock in the morning I have alarmed the enterprises, they dismantled MAFY, more than 10 pieces have taken out them. In the morning people come, and МАФов isn't present. They come to executive committee and speak: «Where our MAFY?». «What MAFY and what they were there? Some documents are?» , - I have answered them then. Everything has been illegally established. They speak: «So we you on courts...». I him: «To a meeting in court». They come to court, the court speaks: «Yes of course, we will condemn him now, give documents». And there are no documents that. They again to me, and I speak to them: «Time has passed for storage of yours МАФов, you will pay still our municipal enterprise?». All have taken away the MAFY, have carried on villages, have made of them hen houses. In the city of Kiev it was much more difficult. I directed this direction and I have removed 3,5 thousand МАФов, but today, by data, their not less than 15 thousand and this fight very difficult. Behind each MAFOM there is either a People's Deputy, or the minister, or the security officer, prosecutor's office and therefore, it is very difficult to fight against this phenomenon. In my opinion, here is both economic, and political, and corruption components. Therefore, it is difficult to do it. But, if we want that it was the civilized city if we want that we developed and went to Europe, then this shameful phenomenon.It can be some modern, normal, good, small architectural forms of a raid which sell ice cream which serve some territories where people walk. But such boxes on all city only dishonor any city.
Your one of the last statements was that if the power doesn't shift at least for half a year introduction of norm on the translation of housing stock to OSMD, then it will be a collapse. You were heard?
М:No, I am not heard. Moreover, they don't want it to do. Moreover, the whole clans which are interested in that such collapse has occurred are formed. A year ago the Supreme Council has adopted the Law of Ukraine «About features of implementation of the property right in apartment houses» According to this law, since July 1, at us ZhEKs disappear.
The state has withdrawn from informing citizens. However, if soon inhabitants don't create association or independently won't make the decision on the form of government the house, the executive body of local council will appoint by him the managing director. And then, it isn't excluded that the new company will significantly raise a payment for the maintenance of the house and the house adjoining territory.
Besides, today there is no main document which would regulate holding a competition. Today it isn't developed «Provision of holding competition». This document isn't accepted because it is still not developed by the Ministry. Second moment. We have held a competition who comes to this competition? There are two options, or these are ZhEKs which are renamed into management companies and nothing changes, or the option when in the market there are 2-3 persons who have created yesterday management company is even worse. They come to this house and speak: «We to you will reduce a tariff» twice. Here give, we to you will contain the house». They win this competition, they have neither people, nor experience, any responsibility for what they will do. They raise money from people and then with this money can just disappear. Therefore, it is that there are no levers of impact on these companies for today, to these companies no guarantees, any requirements, nothing are stated in the legislation. People will become hostages of this situation. We say today that at first it is necessary to accept this leverage over the companies. Only this way we will be able to protect people. Let's explain to people what they have to do».They don't want to create OSMD? Earlier as why OSMD wasn't created? Because people didn't want to gather, more than 50% of owners of square meters that they have gathered were necessary there and have held meeting. And today it isn't necessary any more. Today 4-5 people gather already, they have made decisions it is possible to sign creation with OSMD and method of poll all others, not all know about it. That is why we also bring up this question.
Why your political force won't undertake social loading to explain to people?
М:Have taken, have begun. We have issued the special brochures explaining how to create OSMD, we have made special issue of newspapers of 1 million 200 thousand copies on creation of OSMD, we have created courses of managers, we have made the program which is called «in the cityOur house» , which goes on an explanation. In all regions our deputies try to explain. Though it and not our function, but we undertake such obligation.
Ex-the minister of housing and communal services Kucherenko assumes that information policy has been provided at not the sufficient level just for the reason that some people are interested in that these most management companies were created. Most of all stands behind it local councils, deputies are interested. Whether you agree with such assumption?
М:I don't agree. This law is developed by the Supreme Council. For the city, for local government the problem doesn't disappear. People whose houses will unite in management company if it is not qualitative there will be a company if it fills up, will take away money and will escape, will come, all the same, to the mayor, and he won't be able to get off them. Therefore, interest of mayors in that there was a tranquility in the city that houses were served normally and that they were supported not in a critical condition. And each mayor, is terribly interested in it. Because if to be filled up the house through his fault, it can go to prison and if without his fault, he resolves an issue where to settle these people. Therefore, the mayor is interested that the housing was very qualitatively served. He will be forced to invent now or why he will have to recolour ZhEKs in management companies if he has no real management companies, or he will have to look for the real management companies, or he will have to help to create them in order that they were effective. He is involved in it, and he has no other exit simply.Therefore, it isn't necessary to say here that there is some benefit–it is just need. We suggested to create the register of managers who were trained, their certification, elections and creation of black lists of those who have proved not qualitatively. Because there can be such situation that the person was expelled from Cherkass, and he has arrived in Nikolaev. If unified such register was, such black list of those kompniya which poor are engaged in firm, then for the mayor and for deputies it would be the signal that they can't give them housing any more. The second, transfer of housing has to take place under control of the city authorities, they have to look at qualification conditions very attentively. What as this company is created as far as this person comes, whom he was earlier? Behind it it is necessary to look very attentively. Therefore, I think that with involvement of the public and inhabitants of those houses, are obligatory, in a contest committee.
Just today our mayor meets initiative group which is by hearsay created at the initiative of one of political forces, claiming that the city hall is guilty of formation of tariffs. Who actually approves tariffs?
М:When I was a mayor, the city hall itself established tariffs, and there was opportunity tariffs to establish by the decision of executive committee. All tariffs were accepted by the decision of city council. When I was a minister, more true the first deputy minister, working in the ministry, we with Alexey Kucherenko, have made the decision that all - it is necessary to create the regulator which would take away from the mayor functions of establishment of tariffs unusual for him, thereby вывев him from the political pressure of this component. Because tariffs…You don't argue what price of sausage. She is created by the market, the meat price, the water price in this sausage and all the rest. You aren't indignant how much there is a minute of the mobile phone and all the rest. Everything depends only on tariffs. At us the country has passed everything to market conditions, except zhilishchno - municipal services. We don't understand that the tariff has to be such as the sum of components in this tariff. He can't be less, and can't be more. If gas price has grown twice, then the price of heat because there is no other option will precisely grow. Therefore instead of going in cycles in why a big tariff for heat or a big tariff for hot water or on cold, we have to address sources, the price of components of this water.Here, for example, cold water, its price is defined on 40-50% in a condition with the electric power. And the cost of the electric power is determined by the cost of coal and gas, and the cost of gas is determined by the cost of purchased gas and that which we get in Ukraine. Therefore if we get in Ukraine more than–our gas is cheaper, all tariffs become cheaper at once. Therefore what it is necessary to look at? Not on, why a tariff in the city big and why there is no balance of gas in Ukraine. And why we don't look at it but because there mafia which steals this gas is and it is favorable to someone that gas was at such price.
You, being the mayor, sufferred the governor's pressure?
М:No, I had no pressure.
In all 10 years?
М:In all 10 years there were 6 governors, it is from Kamyants - Podolsk. The city of Kamyanets - Podolsk was itself once the regional center, very strong traditions of local government there, we have acquired the Magdeburzky right for 120 years before the city of Kiev. Therefore, the city of Kamyanets - Podolsk never submitted to the city of Khmelnytskyi. And for me all opinions of the governor had consultative character. Never at me pressure was, ever to me nobody has raised a question of any kickbacks, there were never questions connected with «to allocate a piece of the earth» , or something else…never. But I had good governors, practically everything, except one. Nobody ever put bad questions and such pressure felt. On the contrary, when I needed some help, for example, in structures I worked directly itself for Kiev and if I needed any letter from the governor, I could receive such letter at any time.
When you worked in Kiev what problems then arose?
М:Problems was one million, there was a capital. If I tell you that heating systems of the city of Kiev of 4,5 thousand km on pipe calculation; 2,5 thousand–sewerages and 3,5 thousand–water pipes. You only present, all this is worn out, 8 thousand accidents a year, they should be liquidated.
You communicate with Popov now? How has put him?
М:It will go as early as the whole year because there are no legislative bases for his accountability, and it is the political plane, and it is impossible to release for political reasons.
You have information on the one who gave commands for installation of the well-known fir-tree before dispersal of the Maidan?
М:For half a year before at us snowfall which there were no 120 years before has dropped out, and I have resigned because people weren't happy how we have coped. We have coped in 3 days, and people wanted that we have caught snow on the fly, and it wasn't in general. Therefore I have resigned. If I haven't resigned, in half a year I would be imprisoned now as the main instigator of revolution. Because, at this moment, in the fall when the decision on a fir-tree was made, Popov was on holiday, and the first deputy has signed the order about installation of a fir-tree where there was a police station for providing a public order, it was signed by Golubchenko, but not Popov. Then, the second that it was clear. The mayor has no direct influence, he can't order nothing to militia. Moreover, for this moment there were 4 teams «Golden eagle» from the different cities which are pulled together to the city of Kiev, and we precisely know about how it was. Then still the President Yanukovych has told: «Give, it is necessary to disperse that it was untempting». Here such phrase has been thrown to Klyuev. Klyuev, we are deeply confident in it, has given command to Berkut officers to disperse in such rigid way of these students, hoping that it won't repeat more. And «Golden eagle» absolutely inadequately I acted. I will tell you more when they dispersed these students, at this moment, at Evropeyskaya Square «Party of Regions» I collected the scene and somewhere the person 20 from «Party of Regions» have been beaten, in the same way as all other students because they didn't sort, beat everyone. It was absolutely cruel, confused and it is necessary for nobody. In no way, the city hall, didn't participate in it.
And why then Popov is judged?
М:Because he hasn't escaped. He doesn't consider it necessary to run away, he considers that he is right. Because true responsible has escaped from the country, and someone has to be guilty. Therefore, him appointed guilty.
Yury Isayevich, many say that you conditionally still are Nikolaev's mayor as there your people still work.
М:And thank God that work. It is good that it hasn't turned out so that one have left, and others haven't come. Could it will turn out so that they would tell: «Yes well him». What would be in the city if they have left, and new didn't appoint? It would be the development collapse.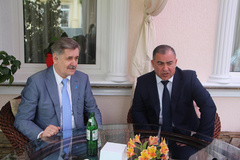 As far as you, Yury Isayevich, really influence processes which happen in the city now?
Г:I have to tell that, certainly, my colleagues treat me with sufficient respect. Naturally, if necessary we consult on these or those questions, or in these or those directions. But we with you understand and perfectly we know that responsibility completely for everything is born by the one in whom the city bulk has put trust–mayor.
So, it turns out that you are in very favorable situation. You exert impact on processes which happen in the city, and responsibility is born by Senkevich.
Г:If we could be suspected, and, in particular, me of some disruptiveness, in desire to make so that the mayor vsenarodnoizbranny and this team looked worse, than, let us assume, at me then of course it would be possible to bring up this question.
Yes, if you have wanted, then you would make.
М:You have facts of sabotage of workers which worked earlier?
Weight. Including corruption actions.
Г:Well, it is separate conversation. When I hear that it is «Granaturov's team» , let speak that I have entered in Nikolaev gorosvt for the short period. I have come when the team practically all was Vladimir Dmitriyevich Chaika. We have pointwise taken new people. Have hired then Yury Borisovich Stepants, Evgeny Valeryevich Shevchenko and literally 5-7 more people. Though process of updating of an administrative board of the municipal enterprises in seriousness isn't even begun now yet. We planned it to begin seriously after elections. However it has developed as it has developed.
М: «Our edge» it is ready to vote for worthy nominations which will be made by the mayor for positions.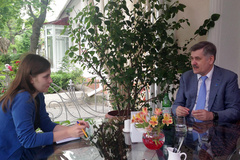 Give once again вернемя to infrastructure of the city. Now at the All-Ukrainian level there are talks about privatization. We won't take big plants, we will fall by level below. There are such enterprises which influence activity of the cities. It is regional heatpower, gorgaza and so on. Whether such structures have to be subordinated to the city authorities or there is a need to develop the state or private monopolies?
М:We consider that those enterprises which in the cities, have to be subordinated to the cities.It have to be the municipal enterprises on which activity of the cities depends. Today by the current legislation privatization теплокоммунэнерго and water utilities is forbidden. She is forbidden by laws today.
For anybody doesn't sektrt that it is a ban bypass by concession.
М:Concession and rent–it isn't bad if there is a qualitative renting or qualitative concessionaire. But the problem was in what? The problem was that such enterprises never were paid back. They were subsidized. Therefore in arrival of the decent investor there was no economic feasibility. Only the speculator who wanted to take away money from a cash flow as he couldn't get profits came. If tariffs cover completely cost then the normal investor can appear.
Г:Here several short examples in services industry of citizens. We will take public transport. Now we have a share taxi which in the city on paper there were about 2000, and actually him was much less. The situation is simple. I several times heard the application from the mayor, and I with pleasure would support it and have divided this tseleustremleniye that if «minibus taxi drivers» will badly work, he will bring from other city or from other country.Any investor can come only if he understands the economic benefit, at least minimum.We say now that the tariff is economically unreasonable therefore it about what benefit can there be a speech. To clean a share taxi there is only one way - it is serious to develop city public transport.
To create the municipal enterprise?
Г:Certainly.
And at us in a different way occurs. At us all begin to hait the municipal enterprise and to say that it is a remnant of the Soviet Union.
М:I will give a concrete example with ZhEKs. All say that ZhEK–it is bad structure. Yes, she is bad. Because she remnant of the Soviet system. Speak. That OSMD–it is alternative to ZhEKs. Anything similar. OSMD–it is a control system of the house, our joint property, and ZhEK–it is office on performance of work on service of this house. Just the ZhEK at us had other functions.He was the owner of this house, he was an asset holder, he was the owner of these people because they had to come to him for passports of bow. It shouldn't be. It is necessary to be the servant of these people. He has to carry out for them services and receive for it money. Therefore the ZhEK to turn into the serving office. It isn't important how it will be called. He will be blown off by the number of people, there will be only those which work and work qualitatively.
And it will be economic?
Г:In order that it was economic, it is necessary to have at least 1% profitability. We have even no zero profitability today. When people speak: «We regularly pay and we don't see any service». When you comes to some residential district to communicate with people, people take you by hand and speak: «40 years repair at an entrance didn't become». 40 years ago we had terry Soviet Union and couldn't speak about such things. But we understand that for today in a tariff there is even no cleaning of staircases that a tariff minimum today.
М:How many tariff now around the city?
Г:We have a different rent. The tariff is now entered podomovy.
М:Well, here if, for example, at you 1.50 tariff, if you have created OSMD, any more there is no VAT. You can not use these norms Soviet.
Г:All of you correctly speak and you argue as the expert who is especially well understanding in zhilishchno - municipal services, but that law, he has frightened people today. Since July 1 ZhEKs liquidate. In the city about 3 000 multi-storey buildings. I will tell you so. If for the rest of this year it is possible to create 100 OSMD what I don't trust in, then we will have 2800 houses. Same doesn't solve any problem, especially it is one-stage. This direction in which it is necessary to move long enough. Besides. We with you understand that it is necessary to transfer to balance of OSMD the house in a normal state, at least with capitally repaired roof and normal communications. We won't speak about painting of panels at an entrance or window openings. We speak about capital things. People it isn't pulled. Recently we were on a community work day to the World address, 48. There in front of the house the big square. I was indignant and have asked where inhabitants of OSMD? Have shown me the chairman and three more people. The Vosmipodjezdny huge house, in which 96% of people–people are more senior than 60 years.They all life have lived in this cooperative house which became OSMD. They already even not to leave able. They aren't allowed by health, and don't allow to contain finance this house. All this components which should be registered legislatively. We have to solve one most important problem–to give the chance to people to contain these houses in order that they could financially, is at least approximately able to do it.
Many say including you that it is necessary to separate local government from policy. The City Councils are elected from political parties and begins: «You not from my party, I won't talk to you» and so forth. You have a recipe of how to resolve this issue?
М:Irrespective of the fact how they have been elected on what legislative rules, the most important that has to unite these people–these are city problems. For example, you have a problem–for today you have no normal, well created executive committee. Who doesn't allow to address the mayor today and to declare what he wants to gather on a competition of worthy people on these places and to take in a contest committee of representatives from each fraction of the council?
So, the colleague Yury Isayevich isn't given. Yury Isayevich agrees, and here his colleagues from «Oppositional block» …
М:Too will give with pleasure. Why? Because they will choose together executive committee.
They speak: «No. We have a half of deputies and we want the person».
Г:Give so. Members of executive committee of city council–it is not a position, and representative function with which session of the City Council equips. There are people who enter under the law, on a position–these are deputies of the mayor and managing affairs and there are those who are offered for consideration.
М:I resolved this issue in due time. It is what Yury Isayevich speaks about. Please, there are deputies who enter, and there are members of executive committee if at «Oppobloka» there is a desire to bring the people, let get. But it will be no deputies. It will be just members of executive committee who will sit and watch whether they do the others something bad. And it is good. Let from all parties sit. But it is necessary to create this part of people of professionals who will work to which will trust.
It is what was made by Yury Isayevich two years ago.
Г:Yes, I have offered sessions of city council as the mayor, within the law, have offered staff of executive committee and have offered quantitative. It is necessary under the law. Session has almost unanimously voted therefore he was absolutely legitimate, and there were no problems. I am deeply convinced that we will structurally support the mayor who will make nominations of members of executive committee. If there is a need of quote representation for executive committee if the mayor offers such principle because only he can make nominations for the law, then I think that I fractions in city council am nominated worthy people who would be members of executive committee.
М:It won't be the cause for braking.
Г:We have no desire to prevent, we have a desire to help with everything because we aren't enemies to the hometown. Everything that is constructive, everything that is aimed at the development, everything that is directed to decisions which in one way or another improve infrastructure of the city, life of the simple person, his movement, his comfortable state, everything unconditionally will be supported. We are very structurally ready. We for that to block nothing. But I spoke, I speak and I will say that the mayor, as well as any other representative of the city authorities that he can't but reckon with those, to a lump voters, for a certain period have entrusted to carry a deputy badge. No matter, in what fraction the deputy. Deputies of city council it is necessary to respect all, it is necessary to reckon with them and it is necessary to reach without fail compromise and instead of political dismantling to solve city problems at session. I am sure that we in this convocation will learn it. Certainly, there will be a deputy who will be a communicator, a compromise figure, the diplomatic representative between deputy corps and executive bodies of council, and the mayor.
Aleksandra Vyaznikova and Andrey Semenov talked, especially for «Crime. Is NOT PRESENT»