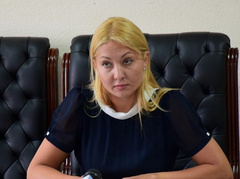 The deputy head of the Nikolaev regional public administration Oksana Yanishevskaya supervised the corruption scheme which is thought up by officials of the regional state administration which has been based on purchases of insulin for medical institutions of the Nikolaev area.
About it in the blog on «Crime. Is NOT PRESENT» I have declared head of the trade-union organization «Strong together» Denis Zhelo.
According to him, in a public reception of the trade-union organization «Strong together» the acting director of the Nikolaev regional base of special medical supply Sergey Lezhentsev who has reported about corruption schemes when purchasing insulin which I supervised vice-the governor Oksana Yanishevskaya has addressed.
«In the statement it is said that at the very beginning of the work on a post of the director of municipal institution, Yanishevskaya has invited Lezhentsev to herself in an office and I have reported that they with the chairman the regional state administrations Vadim Merikov conduct active fight against corruption and corruption schemes in the sphere of medicine pull down. Within this opposition, they have made the decision that tendering process on purchase medical equipment and preparations will be carried out on the basis of the municipal establishment headed by Lezhentsev. According to Yanishevskaya, her essence with Merikov of an idea - to concentrate tendering process in one place that will give the chance easier to control process» , - Zhelo writes.
As Zhelo tells, from the first days Oksana Yanishevskaya tried to take under personal control activity of the SMP Regional base, and in particular, she showed interest to to process of tendering process on insulin purchase. For this purpose has been put to Lezhntsev «looking».
«In order that «correctly» passed the tender and won against the necessary firms, Yanishevskaya has put to Sergey Lezhentsev there is nobody Alexander Sergeyevich Ivanov who had to control tender process. Yanishevskaya has presented Ivanov as expert from Kiev and persistently I recommended to act according to his instructions» , - Zhelo writes.
According to Zhelo, Yanishevskaya has demanded to hold the tender not 42-мя lots, but one. When Lezhentsev has begun to prove why it is impossible and what consequences can be, Yanishevskaya has declared that nothing terrible, she already allegedly about everything has agreed with firms - bidders, and I have coordinated the actions with Antimonopoly committee.
«The official wasn't interested in the fact that it is illegal, and tendering is waited by patients for whom these drugs are vital as they need their daily reception. On the contrary, Yanishevskaya held the ground, and demanded that have cancelled the auction. It has turned out that thirst of a profit was for her above all. Despite threats and pressure from Yanishevskaya and Ivanov, the tender has been held within the Law, on 42-m lots. After that, Yanishevskaya has called Lezhentsev and has set the task to call the head of tender committee and the secretary despite the day off, and to prepare tender documentation of one of bidders of Ltd company «Medfarmk - the center». In spite of the fact that these actions are illegal, she had to arrive together with the lawyers for carrying out check. When there have arrived lawyers, on a request of the secretary of tender committee Svetlana Sedykh to provide documents, they have declared: "To you what there was not enough call from Yanishevskaya?» , - Zhelo writes.
At the same time he notes that in «The organized criminal group at Yanishevskaya was active whole group of persons which she tried under any pretext to push into municipal establishment for complete control of budget money».
«According to the applicant, after a while, Yanishevskaya has again summoned him in an office and has demanded that LLC Medfarkom-center was excluded from bidders and didn't sign with them the acceptance» , - Zhelo writes.
After the acceptance everything is has been signed with bidders, Yanishevskaya has begun to insist that Lezhentsev has taken to himself in deputies of her person - Rybalchenko Sergey Vladimirovich. And the acting Vitaly Alekseev's deputy, Yanishevskaya has forced to write the letter of resignation.
«After conversation with Yanishevsky concerning the deputy of base, I was summoned by the vice-chairman of the regional state administration Nikolay Romanchuk and has taken an interest concerning the conflict with Yanishevska.When I have told him, he has answered me that the director of base I can not be appointed because the decision of a regional council about my appointment isn't made» yet, - quotes Sergey Lezhentsev Zhelo.
Result of disagreement of Lezhentsev the fact that shortly after he has won a tender for a position of the director of regional base of special medical supply new selection has been made began to participate in the corruption scheme and Denis Yankovsky became the director.
«On these facts Sergey Lezhentsev has written the address in General to the prosecutor of Ukraine, National anti-corruption bureau of Ukraine and Administration of the President of Ukraine with a request to carry out an inspection upon an abuse of power and official position from officials of the Nikolaev regional state administration. And also I have demanded, to carry out the corresponding inspection concerning vice-the governor Oksana Yanishevskaya who tried to introduce corruption schemes when purchasing insulin» , - Zhelo writes.
Also he has reported that during transfer in parliament to People's Deputies of documents on Oksana Yanishevskaya's activity on a post vice-the governor, those have introduced the idea of that, that Yanishevskaya's business for the new appointed regional prosecutor Taras Dunas will become serious test for durability, a peculiar check on a solvency in fight against corruption in higher levels.
«Recently to me have allowed to listen to one of fragments of an audio recording of conversation with participation Oksana Yanishevskaya, and it became clear to me by what method Oksana Albinovna has earned the capital at a position vice-the governor. As she being covered with a mask of patriotism I plundered the humanitarian sphere» , - podyitozhivat Zhelo.
According to him soon he together with Sergey Lezhentsev will carry out a press - conference during which he will tell in more detail about corruption schemes of Yanishevskaya together with Alexander Ivanov.
We will remind that the Nikolaev social activist Denis Zhelo has seen in words of the vice-chairman of the regional state administration Oksana Yanishevskaya populism in the statement it is relative the situation which has developed around boarding school No. 5.
Besides, earlier Denis Zhelo have accused the first vice-the governor of Nikolayevshchina Nikolay Romanchuk and vice-the governor Oksana Yanishevskaya of hypocrisy and prosecution only personal business - interests.
Then Oksana Yanishevskaya has given has submitted the statement of claim against the head of public organization «Strong together» Denis Zhelo for posts in Facebook social network in which he accuses it of hypocrisy and populism. Then she through court I demanded from the social activist 50 thousand of moral damage. However in four months I have changed the mind to have legal proceedings for the honor.