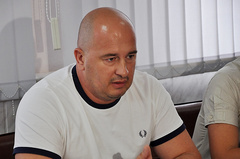 The chief of Service of highways of the Nikolaev area Alexander Antoshchuk is dismissed from a post.
The relevant decision has been made during board on Friday, July 22, reports a press - service «Ukravtodor».
«Heads of Services of highways in the Donetsk, Nikolaev and Cherkassk regions» have been dismissed for systematic non-performance of the duties - inefficiency of performance of work on the current average repair, the operational maintenance of roads and lack of due control of quality of performance of repair work, - it is said in the message.
At the same time it is noted that except the above, not the last role in dismissal of the head of Service of highways in the Nikolaev area Alexander Antoshchuk was played by the public–numerous addresses both from deputies, and from citizens in Facebook about inadequate work of the asset holder of roads in the region.
Also, by results of the held internal meeting, the head «Ukravtodor» the decision to dismiss the director financially - economic Department–has been made Oleg Zagornyak.
At the same time, the Nikolaev activists Yaroslav Zakharenko and Evgeny Volovoy under the message at the acting head «Ukravtodor» Evgenia Baraja in a network of Facebook have reported that to Antoshchuk claims concerning quality of performance of a roadwork weren't. It was talked of work gabaritno - weight complexes.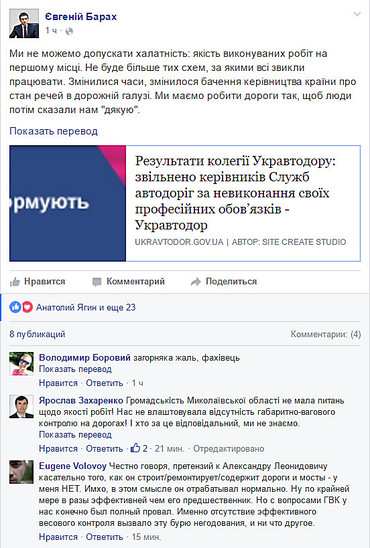 It is known that Antoshchuk has been appointed to a position the head of Service of highways of Nikolayevshchina in December, 2015.
We will remind, Evgeny Volovoy recentlyI have reported about non-working GVK in Nikolayevshchina. And after his message were connected to discussion of this problem minister of infrastructure of Ukraine Vladimir Omelyan and chapter «Ukrtransbezopasnosti» Mikhail Nonyak who has reported that today from Dnieper working GVK have to send to the area and the post of GVK has to be restored at the request of the minister. However the situation cardinally hasn't changed.