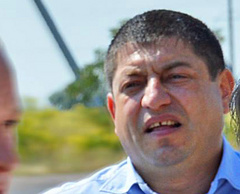 New head of GP «Nikolayevoblavtodor» Vyacheslav Shulichenko holding before a position Zhovtnevy regional department «is appointedNikolayevoblavtodor».
About it on Wednesday, August 17, during a round table with workers of the road sphere in the Nikolaev region, I have declared в.и.о. chapter «Ukravtodor» Evgeny Barakh, the correspondent tells «Presutpnosti. Is NOT PRESENT».
So, answering a question of the deputy of the Nikolaev regional council Tatyana Demchenko that in the Nikolaev region the main personnel issues aren't resolved, Bars has told that literally the director of the Nikolaev oblavtodor the other day has been appointed.
- On an oblavtodor the issue has been resolved still yesterday and today is coordinated with People's Deputies of Ukraine. Him remind a surname, please. Shulichenko Vyacheslav. He is appointed to one month too, - has told Bars.
On the specifying Tatyana Demchenko's question of that, with the deputy prefix or without her Shulichenko is appointed, Bars has answered:
- Without deputy, but with a trial period.
At this position Vyacheslav Shulichenko has replaced Andrey Zolotko dismissed the day before for abuse.
It should be noted that Vyacheslav Shulichenko is a son of Nadezhda Shulichenko, which the day before with scandal have dismissed from a position of the director of the municipal enterprise of the Nikolaev city council for food of children.
In the material «To the lady - mansions, to children - rotten carrot: history of success of Nadezhda Shulichenko» the journalist Andrey Lokhmatov has told that Vyacheslav Shulichenko, working at a ferial position in an oblavtodor, owns the smart house, several land plots, and also two expensive foreign cars.
«Slightly far away, deep into the Rocket Grove, to the address Free, the 60th space in 5 hundred parts is occupied by not less respectabl «estate» overlooking the river. There lives Nadezhda Shulichenko's son Vyacheslav working at a modest position in not less modest Zhovtnevy regional department «Nikolayevoblavtodor».Nevertheless, in 2011 he had enough money to get the land plot and to build on him the two-storeyed house with several extensions and a garage to which the mayor of Nikolaev Alexander Senkevich who, being a hryvnia millionaire, lives in the usual apartment» can envy, - it is said in material.
As for vehicle fleet that Vyacheslav Shulichenko owns two cars: «Mercedes-Benz G500» 2002 of release and «Volksvagen Tourareg» 2013 of release.
«To buy such cars today, it is necessary to have more than 2 million hryvnias» , - the journalist has noted.