It tells the law, court and common sense.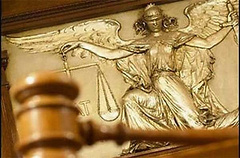 It would seem after there have passed five years after entry into force of the Law of Ukraine «About access to public information» , after a set of scandals with violations of this law from officials it would be possible and to come to a trouble-free situation with access for citizens and journalists to public information. But isn't present. Still it is necessary to look for «justice» on those who for the unknown reasons and motives try to hide what all have to know about.
I will remind, in July of this year on my request to give me the list First name, middle initial, last name and positions of all police officers of the Nikolaev region, the deputy chief of Head department of National police in the Nikolaev region colonel Evgeny Kovtun has refused to me it, having provided at the same time only surnames and names of heads of structural and territorial divisions.
At the same time in the Law of Ukraine «About access to public information» there is an accurate and unambiguous provision enshrined in part 5 of article 6 namely: «Access to information on the order by budget money, including about surnames, names and a middle name of persons which have received this money» can't be limited.
In the law can't, and at the Nikolaev police very much even can. And therefore I have sent the claim to the Nikolaev district administrative court with the requirement to recognize refusal in obtaining the list of police officers of the Nikolaev region illegal and to oblige the management of GU of NP to provide me this information.
What, actually, the court has also made, without having found correctness, logic and common sense in arguments of the Nikolaev police why taxpayers to whom they pay a salary can't know.
The judge Vladimir Bionosenko has decided on September 21 that actions of Head department of National police in the Nikolaev region and personally the colonel Evgeny Kovtun are illegal, and has obliged police to provide the complete list of all staff of the Nikolaev police except for only those who hold positions at which stay is the state secret.
That is the court once again says that no internal departmental orders and instructions to which officials in similar cases refer eternally cancel the direct and accurate norm stated above in any way: you get paid from the budget–you become the public figure.
This judgment (as well as a great number of others) has to once again let know all public servant that it is illegal to conceal the or the colleagues names and surnames, to register in the domestic situations that names and surnames of staff of the state department–it is the office, confidential or still limited in access some information. And to refer to these domestic situations in the refusals of providing information–also illegally and silly, as whether all know to more people, less familiar with law (which have to be police officers) that the law has the highest validity before orders, orders and other it is standard - legal acts.