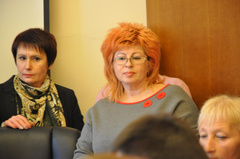 Residents of the house down the street Station, 59 have declared that the deputy of the Nikolaev city council from «Oppositional block» Larisa Veselovskaya abuses the situation as she feeds homeless animals and has converted the platform for linen into the parking.
It became known during the meeting of the constant deputy commission of the Nikolaev city council concerning human rights, legality, publicity, anti-corruption policy, local government and deputy ethics which has taken place on Tuesday, October 18.
So, head of the deputy commission deputy from «Oppositional block» Alexander Malikin has read the complaint of residents which those have sent to the mayor of Nikolaev Alexander Senkevich.
- Inhabitants 59 speak about some abuses of the deputy Veselovskaya at home. They say that it seems as near the multi-storey building, down the street Station, 59, was earlier the platform for linen which locals used. Now it was reconstructed under the automobile parking. Also inhabitants are revolted that our colleague deputy Veselovskaya feeds stray dogs, thereby breaking sanitary standards, - Malikin has explained an address essence.
During communication with residents of the house it has become clear that Veselovskaya according to the address of inhabitants of the house down the street Station, 59 has moved the platform for linen for the reason that in the yard there were no parkings and people parked on a green zone.
In turn people who live in the neighboring house too have wanted to themselves such yard and have addressed Veselovskaya. That, has written the appeal to department of housing and public utilities, and people without having waited for the answer have complained of the deputy of the district.
As a result the deputy commission has made the decision to take information into consideration and has continued work on agenda questions.