Bodies of prosecutor's office pay special attention to fight against corruption manifestation in public authorities. It was emphasized by the prosecutor of the Nikolaev area Nikolay Stoyanov during the communication with the Nikolaev journalists.
As for indicators, the prosecutor of the Nikolaev area reported that last year on control in prosecutor's office was 51 facts on given the direction of offenses. Same year, such facts already 52.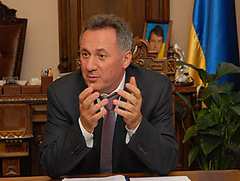 "Believe me, it not race behind any indicators. Carried out an inspection, revealed violation - made the protocol", - Nikolay Stoyanov explained.
According to him, all similar affairs reach court.
The prosecutor of the Nikolaev area also noted that in 5 years while he directs the regional prosecutor's office, any business which is connected with a bribe, wasn't cancelled or stopped. Any bribe taker isn't justified. On investigation of similar affairs, according to the prosecutor of the region, on the average, month leaves.
As for the prosecutor's office, according to the head of supervisory authority
"In 5 years of my work of any fact of corruption in bodies of prosecutor's office it wasn't revealed. There would be something, at once it would become known of it. I penetrate into all situations and I know all the staff. I know who than breathes. If is though the slightest hint, this person won't work also hour. I will fire at once. And that they there didn't undertake … On me to work in this plan - it is impossible", - Nikolay Stoyanov declared.
PHOTO: Mykola.Net