Today on the central city street - Soviet, opposite to Kashtanovy Square, activists of city society of protection of animals hold the action devoted to Day of protection of animals.
Activists want to inform to fellow citizens that it is impossible to disregard any case of ill treatment of animals.
Today they distribute not only leaflets and booklets, but also green ribbons - the peculiar symbol, letting know that the person isn't indifferent to destinies of dumb animals.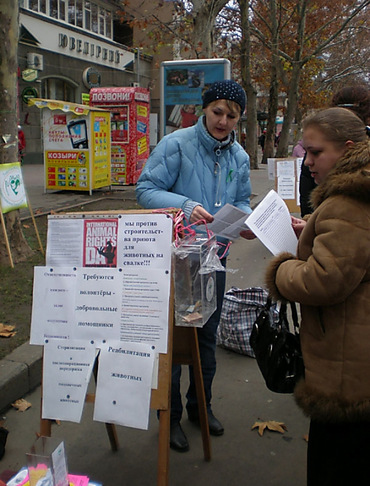 - Our rights and the rights of animals - are inseparably linked among themselves. Protecting their rights, we protect also the, - the representative of society Dina Dyadko is convinced.
According to her, not only the animal should be suffered often from human cruelty, but also people get psychological injuries, going outside and seeing animals abuse.
Defenders of animals also told that the city authorities intend to build an animals shelter. Business seemingly important and necessary. But they didn't think up anything better how to construct this shelter near a city dump.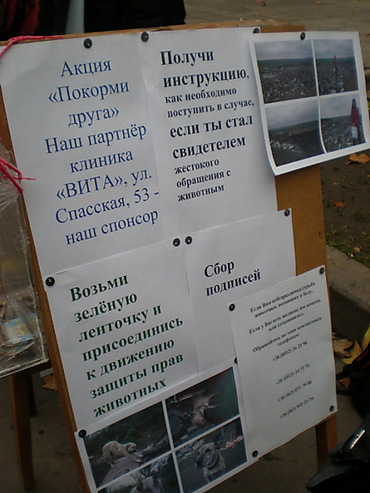 Activists of society of protection of animals consider such decision not only uncivilized, but also anti-humane. Therefore today they, in addition, collect signatures of nikolayevets against shelter construction on a dump.
Animals, as well as people, need livelihood, a shelter, heat, attention. And to dump them, in fact, will mean to show in relation to them absolute indifference if not to tell more - contempt …