In spite of the fact that conceptually «November» festival of arts «ART Leaf fall-2009» I passed the most part in December, nikolayevets all - could will touch the modern art.
Within a festival a series of cultural actions was carried out: the festival a lomografiya exhibition where the Nikolaev photographers participated in an exposition opened, were carried out the master - a class on design philosophy, the fair Hand-made where works of 20 Nikolaev masters were presented, week festival an art - a house of cinema and others.
The project of a format new to Nikolaev - Audiochay became precedent within a festival. «Audiotea is a listening of modern audio of stories and verses group of people in a cozy place under tea drinking where after that passes discussion heard» , - the Director of a festival of arts Andrey Lokhmatov tells. The idea of such action belongs to organizers of a festival «ART Leaf fall» , which count on further independent existence of such concept as audiotea. «As well as other actions some already Arth Listopada, I think that audiotea also will begin to live the separate life - from our initiative, or with someone's another» , - Nikita Khudyakov, one of organizers of a festival speaks.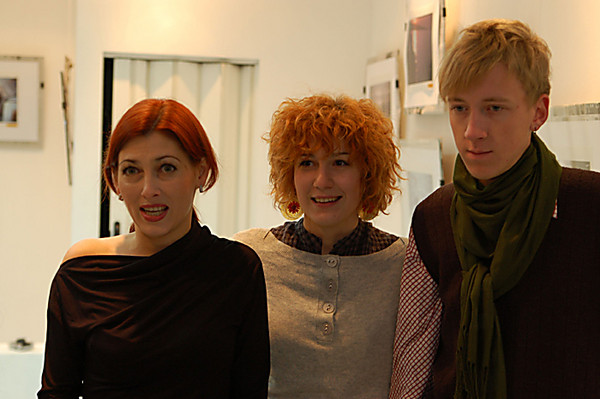 The competition which has passed any more for the first time in Nikolaev of short cinema «gave an impetus to development of the Nikolaev cinemaVideo cross-country». 10 teams-participants from young fans «to shoot» received a task for shooting of the short film in the form of a subject «There is no time for time». On December 6 in the Art - cafe «Tower» the packed house with the purpose to estimate the removed works gathered. To the finish only 7 teams from which the jury on film screening chose 3 the best in their opinion came. One of judges any more the dean of philological faculty of ChDU of Pyotr Mogila Pronkevich A.V. for the first time decided destinies of young actors and operators. «All criteria of estimation were reduced all the same to one - subject following that means - «There is no time for time». As we understood, people strange organize the life and miss something from emotions, feelings which occur at household level: love, friends, parents.And many children left further. Went to philosophy of time».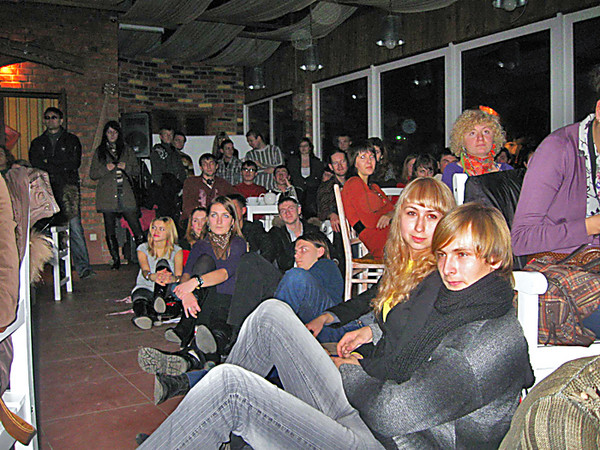 The finish of a festival passed brightly and was called «ART evening: music, literature, dances». On December 18, in the Art - cafe «Kladoffka» at whom the desire to participate in an art - action was stronger, than a blizzard behind a window gathered. At evening the Nikolaev and nonresident poets acted, the Creative studio «actedMO» with two dances which aren't giving in to any genre criteria. The right to organize musical part of action was given to quite qualitative nikoalevsky collective under the name «Monophonic». Well and a gift from organizers there was a brought guest from Kharkov - group «Gosprom» , which the live songs actually also closed this year a festival of arts in Nikolaev.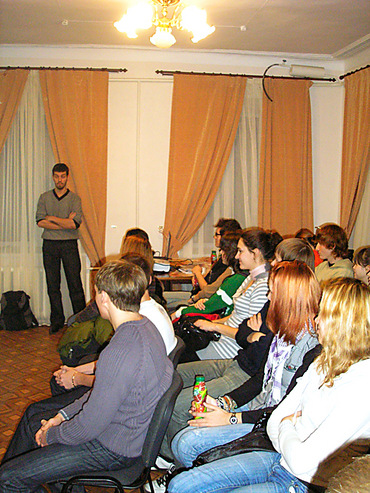 We will remind, a festival of arts «ART Leaf fall-2009» it is carried out in Nikolaev already for the second time and during several cultural actions covers many art forms. This year the festival also did charity work, having carried out within one day a workshop a hand - Maida for children from Boarding school No. 3. Also it is possible to carry to the list of changes and the main source of financing of a festival is the American FLEX Alumni Grants Program program of the American Ministry of Culture. When for holding similar cultural festivals it isn't necessary to address for support at foreigners - while remains a question open.