The exhibition of the Ukrainian vytynanka opened in the shipbuilding and fleet museum. It appears, cutting of patterns on paper to that at other schools teach first graders at manual training, is a type of national creativity and has an old story.
Inhabitants of Heavenly Empire were engaged in it at the time of ancient imperial dynasties and still Chinese decorate the dwellings with the pictures cut out from paper. Archeologists find in the Altai barrows of a product from skin which it is safely possible to carry a vytynanok to the category.
And in 19 - m an eyelid when in the Ukrainian villages there was an inexpensive paper, rural skilled workers found for it application including in this genre. But not everywhere.
On Vinnichin the vytynanka extended, for example, about hundred years ago, and in other areas about it still don't know at all, or it gained popularity at national skilled workers quite recently.
Also called it on - to a miscellaneous - both shchipanky, and vykleyanky, - up to 1913 when appeared so to speak, the uniform and standard name, Antonina Burdina, the member of the creative association "Pribuzhye" and the literary associations "Building Berth" and "Reflex", the author of the collection "I Glorify the Profession" tells.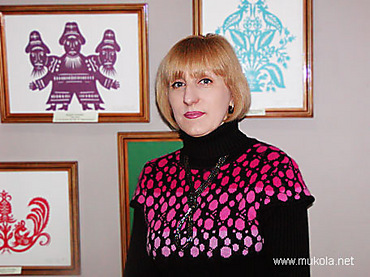 In Nikolaev Bazilevskiye's spouses stood at the origins of art of a vytynanka - Bartashevich, Alexander and Tatyana. Alexander's works in 1988 were shown even on VDNH USSR. Tatyana, the honored master of national creativity of Ukraine, says that since then this type of national creativity was unfairly forgotten partially: yes, worked, but works went, as they say, "to a table".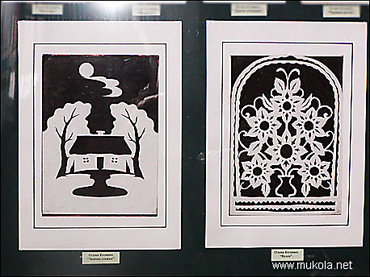 Recently in Nikolaev there were the people, wishing to revive a vytynanka. And here on New Year's Eve Svetlana Romanenko, the senior research associate of the Nikolaev museum of local lore, decided to collect the Nikolaev vytynanshchitsa and their best works "under one roof" which was provided kindly by the shipbuilding and fleet museum.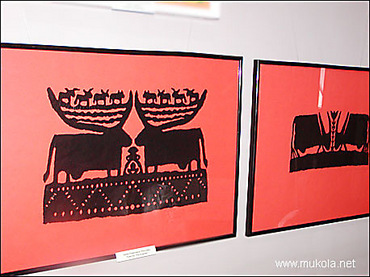 Skilled workers Antonina Burdina, Tatyana Bazilevskaya - Bartashevich, Irina Pokidanets, Elena Kozyavko, students of NF KNUKY Olesya Bogdantseva, Yulia Dmitriyeva, Andrey Nesterov presented to spectators the best works.The special attention was drawn by vytynanka from Alexander Bazilevsky's stand - Bartashevich, as one of founders of this truly folk art in Nikolayevshchina, - bright, multi-color.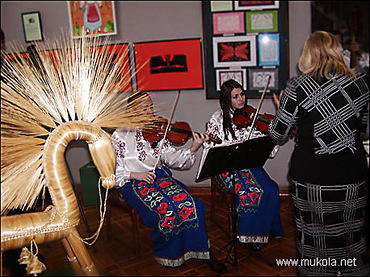 The triptych "Year of a Cow" of T. Bazilevskaya - Bartashevich occupying one of the central places at an exhibition, folklore "Three grandfathers", "Cossack Mamay", "The animal of a paw put" Antonina Burdina, is black - white fantastically - Elena Kozyavko's gingerbread vytynanka, Irina Pokidanets's skillful "lacy" motives strongly decked gloomy December day.