Kharkov. Historically so it developed that this city played an important role in development таэквондо. In 80-x years in Kharkov one of the first sections таэквондо in the USSR opened. In 90-x in Kharkov passed the first USSR championship on таэквондо ITF and it is possible to continue to list actions (it was even better to write the whole article). But there is a wish to tell about the tournament which has taken place in this year.


On December 14-15 in Kharkov passed 1-й the Cup of the CIS on таэквондо. 570 athletes took part in competitions from 14 areas of Ukraine, and also guests from Russia, Belarus, Moldova and Georgia. Competitions took place by rules of federation таэквондо ITF and included two sections: formal complexes (thulium) and duels (масоги).


From Nikolaev six athletes took part. And despite the high competition of tournament, took five awards.


The first medal "bronze" was brought by Dmitry Terentyev in the section "Tully".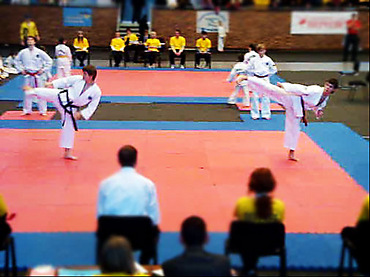 The second medal "gold", already in the section "masogi" in weight + 58 kg, got it Veronika Lobanova the debutant of tournaments of such level, carried out fights simply excellent. Andrey Podnebesnov joined it, having overcome the rivals in weight category to 54 kg.
Victor Cherkavsky reached the final in weight to 71 kg, but in fight for "gold" conceded to the athlete from Ivano - Frankovsk with a difference in one point. In heavyweights Igor Yudenkov in a semi-final met Champion of Europe and adequately carried out fight, and his opponent passed further and won first place on tournament.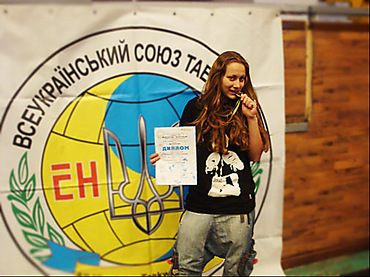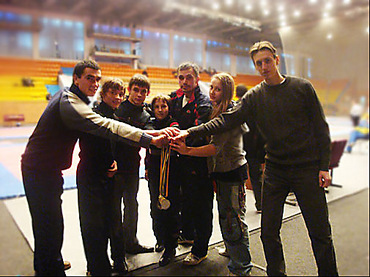 Well organized, in a big hall, on five platforms tournament caused delight in the audience and athletes. Someone was upset with loss, others rejoiced to a victory or were simply happy with participation, but all were united by one таэквондо and a commitment to excellence.


We congratulate our athletes on victories! Keep in there!
Grigory Hozyainov