MBK "Nikolaev" support group with the beautiful name "Blazing" which exists here the fifth year, was prepared for a new season of basketball games of the Superleague, starting on October 11. Since this season on a platform of the audience please 8 beautiful girls - the students, which average growth of 170 cm, and age - 19-23 years.
Until recently it seemed that черлиденг (support of teams so correctly is called during matches special dancing collectives) is not ours, not Ukrainian as черлиденг gained distribution to the USA. However since February, 2005 the State Committee of Ukraine concerning physical culture and sport adopted the relevant decree that from now on the Ukrainian cheerleaders are officially recognized as athletes.
It is simple wave with pompons any girl could, likely. And to act really beautifully, good sports and choreographic preparation is necessary: for game to run out on a platform with mini - the dances lasting for 1-2 minutes, it is necessary till 8-10 times. But our little girls possess preparation: five of them are masters of sports, and three - candidates for the master of sports.

Put the dances of the little girl without trainer (they simply don't have him), but it doesn't affect at all result - they quite justify the name with the beautiful name "Blazing" (in translation - shining, flaring, burning).

Each girl from support group introduces ability and talent from "the" sport. Acrobats Lena Dudkina and Ania Grigoryeva carry out difficult acrobatic jumps, supports, racks, flasks. Ira Rogovskaya and Sveta Butenko introduce aero kickboxing elements (effective new dance with boxing gloves so turned out). Yulya Chernova, Lida Gromyko and Lena Anisimova enter into dances elements of rhythmic gymnastics (twine, exercises with tapes and maces). And Yana Kolova, taking more than ten years ballroom dancing classes, effectively uses "belly dance" elements.And all this dancing "cocktail" - to support basketball players who "transform" the energy received from the audience to victories.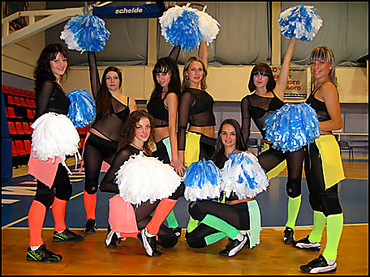 Certainly, fans would like that our little girls had bright beautiful suits, instead of scanty sports bathing suits. But on it girls - have no students of money. Besides, little girls support our team only on matches which pass directly in Nikolaev, and at the exit games MBK "Nikolaev" remains without their support.

Sponsors and MBK "Nikolaev" management! Pay, please, more attention to the support group decorating our basketball games! That the holiday of basketball was even more colourful and more magnificent! Dear citizens, watch announcements on sports the bigbordakh and in newspapers, come to basketball, "support" MBK "Nikolaev"!