Taking place in the last Friday by the Russian dramatic theater, incidentally I paid attention to the tree which has been generously stuck round by advertisements. The eye was fixed for not in time still to fade and burn out a leaf with the following contents: "I sell a coin of 5 UAH of 2009 of 220 years Nikolaev", from a contact information – only phone number.
It became interesting - how many all - there is this, already in time to lift round itself so much sensation, an anniversary coin? To be remembered the mayor and his deputy Alexander Zhenzherukha assured more than once citizens that this coin hardly can be got in "the black market" and that, only for big money, calling thus the sum about 100 euros. And here on you - announcements of sale of this coin are hanging around the city. Strange? Perhaps and …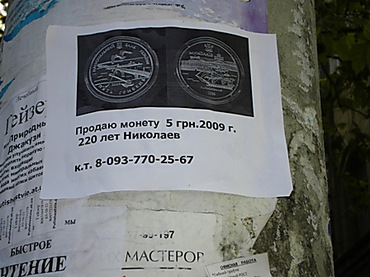 Not to guess I decided to call and find out that to what. The tube was lifted by the man who confirmed that it is valid his announcement and a coin that there is the most real. Having heard the coin price, softly to tell, it was surprised - 50 UAH. And where the fabulous price is 100 euros?
Having shared news with employees, decided to buy for interest one coin. Besides, the price was quite accepted.
The man told that at him there is a lot of coins - "we bought twice more, than the mayor". According to him, he bought them in the Ternopol area at the price from 26 to 28 UAH. The par value of the coin - 5 UAH. This coin was introduced into circulation in September of this year, the general circulation it across Ukraine made 35 thousand pieces.
The amusing story turns out: whether the mayor isn't aware of business (it is aware of coin cost more precisely), whether the man obviously sold too cheap …