I found skillfully written and very actual sublimation of present reality. Alexander Zubchenko, "Versions". "I listened to the address of the prime minister. At once I calmed down. It appears, a bough, we not one! The whole world has swine flu. Therefore it is necessary to sew gauze bandages urgently. Ana works. All sew. Will study a technique of production of the preparation "Tamiflu" at home soon. Her difficult: two ounces of a hydrocarbonate of sodium, the aluminum oxide, the distilled water (it is possible to replace with vodka) to stir up, fack, and then to boil.
Witz - the prime minister Oleksandr Turchynov already gave command to allocate from the state reserve all necessary components in the form of a pork stewed meat of 1952 of release. Brilliant decision: the similar is treated by the similar. And in general, Ukraine as any country of the world, was ready to epidemic. Our gauze so many that it is possible to make the Egyptian mummies of each little Ukrainian quietly. Yes in general and what's the point drugstores aren't necessary to us!

Only full мудаги run in a drugstore in hope to get hold of a gauze povyazochka, vitaminka and anti-influenzal preparations. Though I and not мудаг, but too descended in a drugstore. Directly on doors the long list of preparations which as though will help to cope with artful and zloyepuchy flu hangs. Over two tens positions. And inscription: "the prices don't raise". It guarded me at once. I come. Picture oil: the woman aged tries to pull down a mask from the druggist, motivating these actions by that wants to scratch it eyes. Fight is watched tensely by rather ill-matched audience. Some in homemade masks. Others pull scarfs on ears and methodically breathe in two holes. When warring parties exhausted, purely politely took an interest about there masochka, таблеточек, wheels. Well шоб from flu pork to leave. My question put all in good spirits. It is always pleasant to be convinced that you not one. Such. Idiot. Really, I came to a drugstore behind drugs. Well and who you are after that?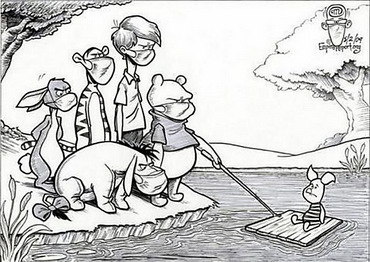 For a trick, and also from - for desires to save a face, I quoted for memory separate excerpts from a televised address of a garrison cap to the nation and I reproduced the main theses from meeting of the prime minister with heads of the local departments responsible for a condition of health care. Грю: "Ana works, soon at the fsekh there will be wheels. Well or tires. The horse-radish it knows that it unloaded today at the airport".It appeared that the vast majority of visitors very well knows both a premiere, and all members of Cabinet of Ministers, including Vasily Knyazevich. The last one man in a sweater with the high throat tense directly on hair, repeatedly had in all natural and not natural openings. It even swore that will repeat this feat three more times, but only tomorrow. It is necessary to make a small pause. The druggist has slightly a little cry and told that swept out фсе still the day before yesterday. Then to them forbade to raise the prices. They strictly follow the indication of party and the government as the fig isn't present. One woman (not that which tried to scratch to the druggist from - under masks organs of vision) gave interesting information. It appears, from flu заипато the Chinese preparation "Blue Slonik" helps. Or "Red" … She precisely doesn't remember. So from, it is necessary to spread plentifully nostrils from the inside and you will feel at once the protected. The audience vividly became interested in a mysterious preparation. Many got mobile phones and began to bash out to the acquaintance and relatives. "Yes not tonic, and epany slonik. Ask Adam Nikolaevich, he can knows".
The similar situation was observed in all without exception pharmaceutical points which I just in case surveyed. Yes, all of them worked, despite days off, however a fig from flu there wasn't. Cool, isn't that so? Many citizens were under impression of numerous statements of Tymoshenko and demanded to itself something in a mouth and a nose. Them politely sent to a state reserve. Hinted that will deliver tomorrow. Well, as a last resort, the day after tomorrow. I came home - there all make bandages. I descended on a market. The free market as - that inertly reacted to requirements of audience. In number a top - positions there were paper respirators for construction works (10 pieces - 50 UAH) and lemons on 100 hryvnias for kilogram. I ask: and what it is so expensive? Answer: the best prevention what right now is. As a bonus - a garlic head. Or onions. On your choice. At once I felt care native, млять, the governments. Well it was necessary to guess at once: as soon as the prime minister promised to withdraw licenses at drugstores which overstate the prices, so the her there won't be. It is the iron law of a scoop.
All walk the streets any sad. Look back. Muffle up organs of smell in everything that hand will come. Ozonize air a fresh smell of onions and garlic. Many on a habit thump, despite cautions about decrease in immunity. But the tone raises. For some time.Most adequately schizophrenics and other people possessing the thin sincere organization reacted to the address of the prime minister. Tymoshenko excited them. Any chudakh becomes hollow in the subway car with a guitar. Starts looking back feverishly. Then shouts that it has swine flu. Gets a gas spray. Type, the best cold medicine! Opens a mouth and sprinkles to itself inside. In its natural way turns out. Fack, as well our government was prepared for epidemic!
It appears, there are the special mobile diagnostic units equipped with all necessary for identification of swine flu. Шоб everyone could be convinced: or pestets, or simply cold. But, bough, they such mobile that the simply imperceptible. Therefore ибланы from the ministry are compelled to send suspicious analyses directly to England and it is stupid to wait two weeks of the answer. Therefore made a blunder with definition of the beginning of epidemic. It is difficult to understand from what the people in the Western Ukraine began to be bent. Just like that or by means of swine flu? But Yulia Vladimirovna promised to deal with everything. "Ya I leave there immediately with the team", - she declared. Tymoshenko, certainly, will help. Will carry out a session of PR treatment for flu a method of loading of water in the unitaznykh tanks on TV. Water will gain at once properties of deactivating solution. And so in the country everything is normal. No obstacles for elections of the president are present. "Укрзализныця" works in a regular mode, tirelessly transporting the infected patients to other regions of the country. At us the Western Ukraine is a nursery of culture and spirit. Not for nothing Tymoshenko for the second day after the official beginning of epidemic promised to make everything for Ukrainian revival. It is a message for the western electorate. "Tamiflu" it isn't necessary to them, them мову дафай!
Very successfully epidemic as an occasion to cancel all concerts within round with "Ukraine in heart and swine flu in the head" turned up. "Free actors", acting purely for idea, started revolting as them obviously threw with the promised fees. As everything successfully develops. Only one Yula managed to carry out a mass Maidan. At the rate of one infected on one thousand inhabitants of Kiev. Has to suffice.
Naturally, the guarantor of the nation caused a stir also. The descendant of proud tripolets who kept in awe all Roman Empire, went on the world, eliciting at the international community in the person of Albania and Romania бинтики, pipettes and other anti-influenzal preparations. At once covers a pride for the country.We, бля, in Europe! We have swine flu, pedophilia, a paederasty and other signs of an advanced civilization represented by ruling party of BYuT!
In society intellectual discussion was warmed: whether it is necessary to be vaccinated or already all the same? Especially that also the vaccine isn't present. Therefore discourse, bough, purely theoretical. In a state reserve there are hulks, ham and a gauze, but drugs and a vaccine aren't present. And on фуя? There is Yulya, she will cure all a method of imposing of hands. Ana works! Everything is ok. Only we are ill and we die. But it, fack, inevitable expenses of democratization. The democracy wanted? Here you are, guzzle! "
Alexander Zubchenko