Many call it a voice and the person long ago the left era, but in the former Soviet Union it know and love still. He is Gosha, it Gogh, it Gore, he is Zhora … It is a question certainly of Alexey Vladimirovich Batalov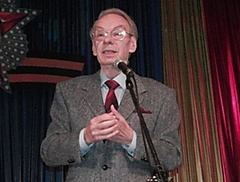 , the known Soviet actor who played a role of the mechanic Georgy Ivanovich in the movie "Moscow Does Not Trust Tears" fallen in love by everything. In a track record of the actor of 39 movies, the last - "Carnival night-2, or 50 years later" was removed quite recently, in 2006 where Alexey Batalov played … Alexey Batalov.

Hardly anyone - who expected to see the actor in Nikolaev. But, nevertheless, last Wednesday in the House of creativity of pupils the creative meeting with Alexey Batalov took place. Hardly it appeared on a scene as the overflowed hall blew up an applause - to Batalov gave a standing ovation. The guest obviously was confused from such reception: "Here you applaud me, and put any of you on my place, in the same conditions, and the same would turn out. Simply the Lord put me in such circle that anything else wouldn't leave me".
Having waited while in a hall an applause will cease, Alexey Vladimirovich started telling. Public it is bewitched I listened to this tall, thin person in a gray suit. He spoke measuredly, slowly drawing before gathered pictures of the past:
− my parents were young actors MOSCOW ART THEATRE and. They were so young and so yet noticeable that lived in the production yard of the Moscow Art Theatre - there was a room like the apartment though it was difficult to call it the apartment. In this yard which was closed from public where took out scenery and where suits dried, there lived only the fire chief, the security officer and people who were directly connected with theater. And our tiny family.
The first that I in the life saw are made up, with the smeared muzzles actors in suits. Everything whom I saw in this yard, were the staff of the Moscow Art Theatre. Parents were very busy and us brought to walk very seldom and if removed, only on the sidewalk to a corner and back for gate, then gate were locked. Therefore I was absolutely sure that all adults work at this theater.
I won't hide, at first I wanted to be the fireman. And all from - for a gold helmet. There was a wish not only me, but also to my friend, both of us dreamed to try on this helmet, and no actors attracted us.
But another matter genes. Imagine to itself that all my relatives, and not just the father and mother, all to one too were actors of this theater. And in an interval or in a break when they weren't occupied, came to our room to take a sip a seagull or to drink a cup to coffee if it was. Again made up and in suits. These are those people who directly surrounded me.
− But now I will confess before you, − A. Batalov made a pause and continued, − speak on protection, on protection, but such protection as at me, at the normal person wasn't, at one. I already called the father and mother, the uncle and his wife is Batalov and Androvskaya, their daughter Svetlana too were actors, further - Zinaida Batalova, Musya Batalova, these are sisters, further their husbands. Here I called direct relatives. So all family again - was here.
Once to us any people suddenly came to school. And already literally in five minutes all school knew that look for children for shooting in the movie "Zoya". And in this movie I for the first time told any words. Then the movie left then all school teased me the actor. I was very much weighed upon it, it seemed to me that it with me had nothing in common and all is opposite as - that turned out. Here so everything began. And then war … Mother appeared one with three children. All war we moved where potato - Chistopol is cheaper in the market, Bersut, Kazan, Sverdlovsk, ended it already in Bugulma.
Means then didn't suffice, and it was necessary as - that to earn therefore mother and other evacuated actors began to give small representations in hospitals. Wounded with pleasure visited them, and some which couldn't go, even brought on beds. And we, children, too read any ridiculous rhymes or sang songs.
It was remembered well as we sang something in chamber and when stopped singing, one of wounded (he had no hand) gave us the candy. We first didn't want to take, and it - "Eat! ". And what here you eat when everything turned over? But it was necessary to chew.And only then we understood in what business, he wanted that we ate because thought that at us adults will take away or will eat. And when we ate up, he told: "Well, now another matter. Go, actors".
Later the small troupe was organized. Put even Ostrovsky's play, it was "The last victim", mother still played there a major role. There is a dinner scene in a garden and it was necessary that any boy gave to a table. Then me for the first time in life smeared with a make-up. It should be warmed on an oil lamp as it was as stone. Then dressed me, I left and told the first words on a scene - "To eat is given! ".
Thank God, came to an end that we returned and appeared in Moscow. There was no place to disappear school to me already. I graduated dreadfully as we constantly moved - at that school started studying French, in this is the German there still any. It is horror I was! So I know nothing. That is why I so am surprised - you to me clapped, and I thought "It is necessary to tell you the truth".
− Here and it turned out that the school is the main shame of my life, − with a smile A. Batalov told nikolayevets.
− Eventually, I ended it, then - the Moscow Art Theatre, and then already pictures.
When time came and me took for a small role in a picture The Cranes Are Flying, for me it there was a gift from that time. In this picture I tried very much. The picture is live still though it and is abnormal - so many years of a picture don't live, but for me it remains precious.
Most it is interesting that in a scene of death of my hero when at him before eyes trees are turned, the cart with the camera was carried by me. Before this such reception at cinema as ring rails for the operator, wasn't. If our burdocks (laughs -bus) didn't miss and patented this invention, they would be millionaires. Now all film crews are equipped with such rails, the cinema adopted them for a long time.
It is pleasant that people watch this movie though its destiny first was absolutely another. To be remembered, Khrushchev looked at this picture, and it at all wasn't pleasant to him:"What it for mockery? What is such? It is so much women heroic, all war plowed, worked at plants, and here you show any woman who changed to the soldier". But, fortunately, he told: "Show a picture to people in the different cities, and you will hear that they will tell". The slice of this picture was seen incidentally by the Frenchman who collected movies for Cannes Film festival. So the picture got on a festival where it got the highest award. All Europe started buying this movie. So, thanks to this fantastic accident, the movie found the real spectator audience.
Other picture at all didn't suit for the general line of party also - "The Lady with the Dog". Years two To Heifetz (to the director of the movie -bus) simply didn't allow to shoot this picture: you propagandize change to the husband. But, eventually, a picture everything is started. Searches of the main character for a role of the The Lady with the Dog began. In order that there was a cash success - the hero or the heroine surely have to be a star. But contrary to the checked and proved rules Heifetz took the very young girl whom didn't know for a leading role and anybody couldn't know. I wouldn't began to tell it if boasting personally mine here wasn't hidden.
Once at student's performance I saw modest, small growth the girl. It was seemingly imperceptible, but in too time very womanly, very modest and very sincere. It I was Iya Sergeevn Savvina.
I told about it to Heifetz, and he caused it on tests. She at all didn't expect it, anybody on light didn't know her. Tested and after Heifetz saw it on the screen, he told: "Here only it will be removed! ". Then this picture with its participation got an award on Cannes Film festival.
The meeting with nikolayevets lasted more than two hours and ended with a storm of applause and armfuls of flowers.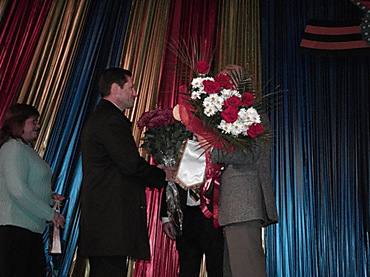 P.S.Unfortunately, Alexey Vladimirovich didn't tell the Nikolaev listeners about peripetias of shooting "Moscow to tears doesn't trust". After all after the mayor rose by a scene, everything mixed up - congratulations, flowers, gifts …