Last Saturday in Nikolaev near a monument to Holodomor victims on Hersonskoye Highway meeting in memory about lost took place during genocide of 1932-1933.
The decent number of people, the majority of them gathered for meeting - students. As it happens most often, they were sent here by the management of universities. After all it becomes a natural and all known method: unostentatious, but the accurate and implicit decree "from above" to provide unlimited number of people for action. Further everything is carried out on a chain "the rector - deans - curators - heads of groups". On the action census of those who came and who isn't present is made. That who wasn't, already today will be what to listen at university. After all if few people came, everything receive "a blow", as the above turn.
Before a monument to victims of the Holodomor laid out a big cross from the lit candles. Children who spread it before action, told that for this cross about 700 candles were prepared. Were used not all. But that quantity which should be lit, impressed. Especially the same children who were compelled to do it. After all after the end of meeting they still should clean all this.
Long before the meeting beginning directly on steps before a memorial the old woman sat and sadly looked at a cross from candles. Practically nobody paid attention to it, all were occupied with preparation for a celebration. The People's Deputy from BYuT Roman Zabzalyuk, having arrived to a memorial, I approached to it, I talked over some seconds.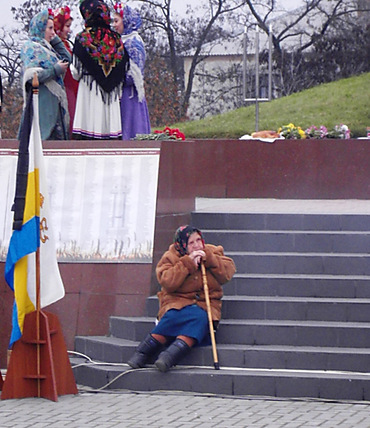 After a while to the old woman brought a plastic stool. Helping it to sit down, suggested to pass where - нибудь into other place. She began to worry:
- No, don't touch me! I anywhere from here won't leave! I will sit where I will want!
The old woman was presented by Maria Yakovlevna.
- I - the live certificate of Famine-Genocide. I then was 5 years old … And today I came to look at all this facade, - with bitterness she told.
All again ceased to pay attention to the old woman. So she also stayed there until the end of meeting.
Meeting took place in the best traditions "mournfully - solemn" actions. Served a public prayer "for the peace of soul of victims and remission of sins by it, it is free or involuntarily created". Assigned pots with grain and with candles from areas and the cities of Nikolayevshchina.All this was tightened almost for an hour, just by the beginning of the official address of the President Yushchenko to the people of Ukraine.
The address was broadcast on the air. However, the effect of "radio" was gained. For any reasons the projectors prepared near a monument, didn't include therefore people heard only a voice of the President.
For memory of victims for hunger in 1932-1933 traditionally observed a minute of silence Well, not absolutely minute. And not absolutely silence. Which - who in crowd didn't find time to stop conversations for a second.
Then assignment of mourning wreaths to a monument took place. And so blasphemously all this assignment of a wreath near that place where the live participant of events of that time continued to sit on the stool looked.
Not the place it was on this action, not a place. After all our business today - to revere memory of the dead. And here - it … Live … Not to tell that very much I disturbed, no. It didn't disturb action.
But simply there shouldn't be there it. Excess element in an overall picture of grief. But time I came, the hell with her, let sits. For certain, similar thoughts flew in the heads at the vlastyimushchikh, arrived here to honor.
After the end of action Maria Yakovlevna approached to the governor, something started telling it. Alexey Garkusha answered a question with what the old woman addressed to it:
- At it in 1996 the son was lost … There to it now will talk, wrote down the address. We will find out everything to subtleties, we will specify, as as. And that now she worries... And the question was one - to equip a small bench near a memorial that people could stay here all - not only in such days, and in general every day.
Lack of benches really disturbs Maria Yakovlevna:
- Here, on this place, there passed all my youth. We here walked earlier, on shops sat. And now here the monument, here is impossible. Sometimes here I come here in the evening, I sit down on steps. So the militia speaks to me that I from here left. And here still the neighbour's girl came to ride the bicycle, so her from here expelled. There is no place to sit even.
The governor also explained why the old woman considers this meeting by a facade:
- Before the such didn't become also people to the such didn't get used. Cruelty of life accustomed people to absolutely another. It didn't accustom people to here such events when openly speak about things solemn, well, say, festive, light, and about things such as today.Therefore, probably, it didn't get yet into hearts and people perceive it so. And we see everything differently. It not policy. Sin, probably, to any politician and political force to try to use here such moments for public relations. This great grief for the people. And, generally - that, I here don't see anything absolutely, except a memory vozdaniye that who was lost against the will.
Yes, of course, a sin to any political force to use such actions for political propaganda. This sin on soul was taken by the Ukrainian people's party, the People's Movement of Ukraine, the Svoboda organization, supporters of Arseniy Yatsenyuk. After all at all just like that flags of these political forces at all fluttered over crowd near national flags.
Generally, organizers of meeting tried wonderfully well. Action left decently solemn. Everything is all right, honored, it is possible to tick off.
The public debt "brought" on action of local high-ranking officials - the governor Alexey Garkushu, vice-the mayor Yury Granaturov and others. The solemn grief didn't descend from their faces simply - until the end of meeting.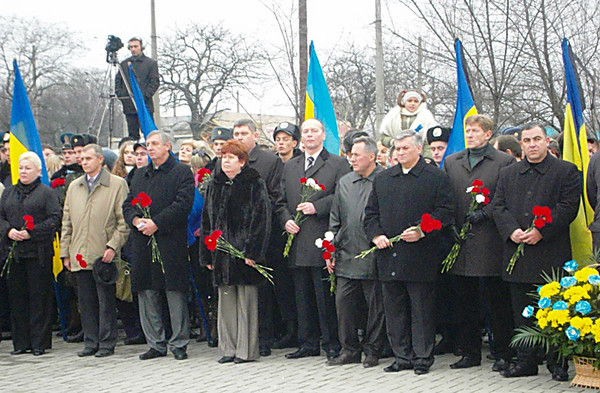 The mayor didn't have time personally to honor memory of victims of the Holodomor. I didn't consider necessary to be to a memorial and the head of regional council Tatyana Demchenko. Wasn't on action and the deputy head of the Nikolaev regional council.
Badly it, badly. What urgent matters could prevent them to come to a monument to Holodomor victims? Unless it is possible not to revere memory so? The president of Ukraine honors, the prime minister honors. And they don't? (It is interesting, whether will work in this case the principle "on a cap"? )
The president Yushchenko in the address to world community in Day of memory of victims of the Holodomor told that this business of national honor and a sacred debt to own people and to God to inform to the whole world the truth on the Holodomor as the genocide consciously organized by a communistic Stalin mode which purpose was to exsanguinate Ukraine and to undermine its aspiration to freedom and independence.
- More and more the countries and the international organizations recognize it as the act of genocide and condemn as a totalitarianism crime. Work which we began, will be surely continued as that is demanded by our personal and national conscience. The truth - the only way to moral healing and the worthy future, - was declared by the guarantor Konstitutsii.
As much to these it is told! Here after all already and responsible for the Holodomor found.After all at the beginning of November the head of SBU Valentyn Nalyvaichenko reported mass media that the pretrial investigation contacted organizers of the Holodomor of 1932-1933 who held senior positions in the Ukrainian Bolshevist party.
According to Nalivaychenk's statement, in genocide of the Ukrainian people are guilty Stanislav Kosior who was the secretary of the Central Committee of KP(B)U, Pavel Postyshev whom Stalin and Molotov sent in January 1933 to the Kharkov area, and he directed area, bringing a crime to logical end. The third official is Vlas Chubar who also was then a part of Council of People's Commissars of Ukraine.
- Today we precisely have to prove by the national legislation fault in court of these people on the basis of proofs and collected certificates. After that, I am convinced, these criminals who have committed crimes against humanity, have to be condemned and deprived of any privileges, - the head of SBU declared.
Also Valentyn Nalyvaichenko placed emphasis that in Ukraine precedent when the crime against humanity has no limitation period can be applied. After all the existing Ukrainian legislation doesn't allow to pronounce a sentence of rather died person.
It's cool! Found out who is guilty, now we will make changes to the legislation and we will condemn them (though why - that seems that that whom we will judge, already deeply all the same).
And about the Holodomor, that, undoubtedly, is necessary further as it is possible to study this subject more deeply. Further to turn the tragedy in nobody the necessary farce. Yet all countries still recognized that it was the genocide. Disorder, isn't that so?
The economic crisis, salaries, pensions, education is after all all leaving and coming. And the tragedy of the Ukrainian people is eternal.
Therefore distract from the petty ordinary problems more often and think of the eternal. The more to speak about the past, the less in the head the present climbs.
Also remember! There is nothing to complain! The worse is, the it is more than chances that your memory sometime surely почтя