Basketball. Cup of Ukraine
Before game


After memorable defeat of yuzhnenets in Nikolaev got also to judges, that "irritated" guests, and - in the following round - to champions of the country, whose head coach lost work. Therefore the repeated match with such rival who and selection of players is much stronger, and at all already doesn't underestimate you, was for certain assumed by much heavier for owners of a platform.
But here we didn't see on a parquet of Nadezhda sport school of a tandem of Kelly - Agafonov and, at all sympathy for the athletes who were traumatized, breathed sigh of relief. However, Chakich at whom for that match special "tooth" grew by Gilevich returned to a system.
Game
MBK "Nikolaev" - "Chemist" - 77:72 (27:16, 12:17, 22:17, 16:22)On November 18, Nikolaev, спротшкола "Hope", 1000 viewers
Productivity (points/minutes in game)
RAJEVSKI
7
31
Bratich
3
15
ONUFRIYEV
16
37
Korochkin
2
7
GLADYR
19
36
Bader
21
35
HLEBOVITSKI
22
29
Ryabchuk
10
29
BLEER
8
31
Sabutsky A.
0
8
Yaylo
5
20
Jackson
10
32
Silkovsky
0
7
Famutimi
15
32
Tonchenko
0
9
Chakich
8
28
Zavadsky
0
2
Kolchenko
3
12
Head coach Vladimir FIELDS
Head coach Dmitry Bazelevsky
Accuracy of throws (threw/got)
2-point
35/21
46/22
3-point
19/6
24/7
Penalties
28/17
9/7
Selections (the шит / stranger)
23/10
15/20
Judges:B. Shulga (Kiev), V. Pedyev (Odessa), A. Babik (Kiev)
CommissionerS. Kapitonov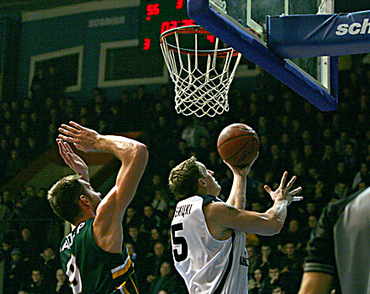 Emergence in the starting five of guests of Sasha Sabutsky appeared on a hand to nikolayevets. The young forward hammered nothing, earned 3 fouls, and only two personal remarks already in the first period to Hlebovitski sponsoring it it is possible to carry in an asset of "our" yuzhnenets.
However, anything to the first break didn't prove neither Korochkin with Jackson, nor Famutimi with Chakich. It allowed Onufriyev with Gladyrem, and also to Hlebovitski, Yaylo and Blair properly to come off in the account - 27:16.
The shake-up did guests only good. From the very beginning of the second period "chemists" were let in a pursuit. Nikolayevets parried the first attacks. But then yuzhnenets played even more surely. If to consider that at us from game killed only Hlebovitski and Rajevski, and penalties nikolayevets realized only a half, it becomes clear - 39:33 - yet the worst option for us.
Some time after a big break to none of rivals wasn't possible to improve the situation. But here some dashing attacks of Gladyrya and Onufriyev blew up a situation - plus 14! In an ending the only three in this period for guests was executed by Jackson. But nobody guessed.than will turn back it "having started singing" after quite safe 61:50.
Bader, Famutimi da Rjabcenco already to the middle of the final period didn't leave from this advantage even a half. Like a lion the battling Hlebovitski the nine points for a quarter helped command to avoid the worst. It is a pity only that in the heat of fight our forward was traumatized and was compelled to leave a platform. And Gladyr who has obtained in the same episode the fifth foul saw off him in a first-aid post.
Last minute Blair at first delivered impressive "hammock" to Bader, and then took away a rebound after Chakich's throw. And not to see that to us before a reciprocal duel in Youzhny and that "patch" that remained to us from almost three times bigger advantage - 77:72.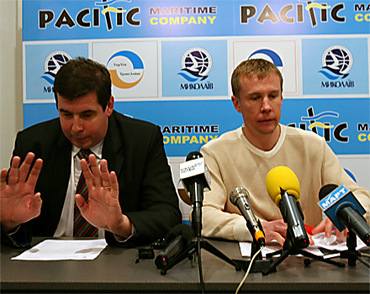 After game
The head coach of MBK "Nikolaev" Vladimir Polyakh on after match a press - conferences didn't shine brightly fun:
- For championship game - the result normal, for cup duel of the got overweight is too little. Five points before a return match in Youzhny are anything. I can't reproach children with return, and here a spirit to them, probably, didn't suffice. On game I can explain with lack of a due spirit 11 misses from the line of penalties.
Why Gilevich didn't play? Ivan is healthy, it was my decision not to let out it on a platform. From Bleyr I, first of all, wait for the help in protection. In this match it made eight selections, played normally. We made the decision to leave it in team. Gladyr played well, but anything phenomenal didn't show, he can play better.
Head coach of "Chemist" Dmitry Bazelevsky:
- I can't tell that it is satisfied with result of a match in Nikolaev, but for present structure of "Chemist" - result quite good. At us I didn't play Kelly who sprained an ankle, there was no Agafonov. And leaders of our team who arrived to Nikolaev why - that played not at full capacity. Bratich surprised with nerves, he greased one episode and fused. Children's mistakes were made by Korochkin. Not for hundred percent of the opportunities Chakich proved, but he didn't train two weeks and protected a hand. Ryabchuk who has replaced Kelly, played not bad, but not bad is a little to win against Nikolaev. I will note that MBK "Nikolaev" now a little in what concedes to "Chemist".
Dmitry Bazelevsky stated claims and to the pupil of the Nikolaev basketball Alexander Sabutsky who spent not enough time on a parquet.However, the trainer noted that from Alexander and his brother Sergey nowadays playing in Odessa, there will be a sense, considering their diligence on trainings.
Cup of Ukraine. ¼ finals
On November 18
BQ "Donetsk" - BQ "Kiev" - 63:75
On December 21
"Pulsar" (Exactly) - "Sumykhimprom"
On December 29
"Kremin - the Polytechnician" (Kremenchug) - "Azovmash" (Mariupol)
Return quarterfinal matches will take place on December 30.