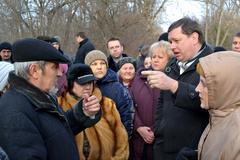 On Saturday, February 23, inhabitants of the residential district «Levanevsky» came for meeting near a site of cottages to solve, how to counteract cutting down of a green coastal zone and deployment there buildings. For meeting came about one hundred people, to protect a public order there arrived some militiamen.
However, residents didn't manage to come to any general denominator–everyone saw the plan of action on - to the. Head of body of self-organization of the population of the residential district «Levanevsky» Lidiya Shust told that all last years her correspondence with public authorities and law enforcement agencies didn't bring anything–everything where people only unsubscribed addressed. So, the mayor of Nikolaev, according to Shust, on a request to recognize «Levanevsky» I answered with a park zone that in this territory no, supposedly on park you don't pull valuable breeds of trees. After that the head of OSN suggested to file a lawsuit against the City Council for the decision on allocation here lands under construction.
- Let's protect the interests. We have the only way–it to file a lawsuit, - she told.

Someone from local residents I answered it that while the court will go, here already all will construct.

- While there are judicial proceedings, building has to be suspended, - someone parried among people.

- Well, offer that it is necessary to do, - Lidiya Shust declared as a result.
After that people began to argue, what actions it is better to undertake. One said that it is necessary to give to prosecutor's office, others–in court, the third–to deputies, and the fourth were at all categorical, suggesting to take down the fence established by builders immediately.
Before gathered also I acted arrived to support people the deputy of city council from party «Third force» Tatyana Suslova. She declared that people had to address still yesterday to the deputies - mazhoritarshchik:to «to the regional» To Alexander Zhenzherukhe, the deputy of the City Council and the head of administration of the Factory area, and to the deputy of the Verkhovna Rada from Party of Regions Vladimir Nakonechnom who were elected on this district.
- Just there was a situation with 22-ым the house, and whether there more less people managed to come to any solution. Thanks to what? Thanks to consolidated their actions. The second. They didn't waste seconds time, and they from the very beginning addressed in all instances where they only could address, - Suslova told and noted that people have to address to the deputies.–Someone has to represent your interests from your name. Your deputy–it is Zhenzherukh. You have to pull it.
Besides, the deputy suggested to address also in Interdistrict nature protection prosecutor's office as, in her opinion, in this case there is a violation of the Water code.
As a result unanimously people agreed only on subscribing under the resolution of the meeting: not to allow building of a green zone in the residential district «Levanevsky» , to achieve from local government of dismantle of the illegal built fence, to achieve receiving penalties from the legal entities and individuals guilty of cutting down of trees (more than 50 pieces), to achieve in the territory of an existing zone of green plantings of an official park zone «Levanevskaya» with the corresponding issued status.
Besides, people are going to leave to collect the signature on all city as are sure that cutting down and building of a green zone in «Levanevtsev» - it is a problem of all Nikolaev. The appeal to take down a fence sounded several times during meeting, however people didn't decide on it and gradually dispersed.
In turn, in the comment by phone the head of Factory regional administration Alexander Zhenzherukha told journalists that in it isn't aware of today's meeting of people, and that him didn't invite. On the question, what its position as head of the area concerning cutting down of the square and further construction there 18-ти cottages, he answered that it completely on the party of people.
- I support people. As the deputy, I will react, - declared «regional» Zhenzherukh.
Meanwhile, builders already cut down a big half of the square, some long-term trees behind a fence, on the river bank (for what builders a priori have to pay a penalty) thus were cut. It should be noted also that the fence leaves end-to-end to the river that doesn't correspond even to that local plan accepted by city council in 2009.
For the reference:
According to article 88 of the Water code of Ukraine, for the purpose of protection of superficial water objects from pollution, a contamination and preservations of their water content along the rivers, the seas and round lakes, reservoirs and other reservoirs within the water preserving zones are allocated the land plots under coastal protective strips. Coastal protective strips are established on coast of the rivers and round reservoirs lengthways уреза waters (during a certain period) by width: for the small rivers, streams and streamlets, and also ponds less than 3 hectares - 25 meters; for the average rivers, reservoirs on them and ponds more than 3 hectares - 50 meters; for the big rivers, reservoirs on them and lakes - 100 meters. If steepness of slopesexceeds three degrees, minimum width of a coastal protective stripdoubles.
Besides, according to item 4, article 89 of the Water code of Ukraine, coastal protective strips are the nature protection territory with a mode of limited economic activity. In coastal protective strips along the rivers, round reservoirs and on islandsconstruction of any constructionsis forbidden (except hydrotechnical, hydrometric and linear), including recreation facilities, dachas, garages and parking of cars.
We will remind as earlier it was reported, in 2009 deputies of the Nikolaev city council made the decision No. 36/62 , according to which the last green zone in the former military garrison on the river bank, on a place of the former summer movie theater was distributed 18-ти to citizens under construction of individual housing. In other words, deputies and the mayor gave a green light to cutting down of the square and emergence on is mute one more cottage town.
According to the City Council decision, on a place of a green zone there has to be Aviatsionny Lane with 18-ю houses. The first cottage started building here even in the spring of 2012.