The national committee "Ms. Ukraine — the Universe" came to a final stage. 20 most beautiful girls of the country chose as a way the Internet - votes.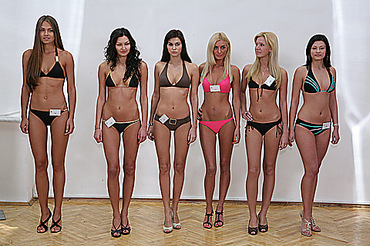 We will remind that 150 girls took part in a casting. In the beginning the jury chose from each six of the pleasant girls, and then personally communicated on different subjects with each of contestants. It is pleasant that all judges noted not only beauty of pretenders to a diamond crown, and also their mind talent and charisma. 30 girls for whom everyone could give the vote were as a result selected. Among 30 pretenders there were also Nikolaev beauties, so, for example, 19 - summer Anna Matveeva became 15 in a rating. Pleasant surprise was that except Anna one more our compatriot takes part in competition - a nikolayevchanka Ekaterina Antonenko. On the end of vote it appeared on the second position, having conceded only to the contestant from Cherkass.
The competition "Ms. Ukraine — the Universe" annually takes place in Ukraine under the auspices of the competition "Miss Universe". Owners and organizers of this largest world forum of beauty are corporation NBC, Donald J. Trump and Miss Universe Organization.
- Our main goal - to find really the best girl, that which could become the face of our country at the most prestigious international competition "Miss Universe", - the director of the competition "Ms. Ukraine Universe" of Alexander Nikolayenko speaks. - Future winner has to increase already reached results and adequately present Ukraine on the world scene of beauty. This year you will see competition in a new format. It will be beautiful bright and unforgettable show with a mass of surprises.
Now 20 Ukrainian beauties can be seen in February in the final of selection competition. The winner will go to represent the country at the competition "Miss Universe".
Reference:
Anna Matveeva - 19 years, height is-175 cm, a breast - 85, a waist - 60, hips - 87.
Ekaterina Antonenko - 20 years, growth - 175 cm, a breast - 86, a waist - 60, hips - 90.