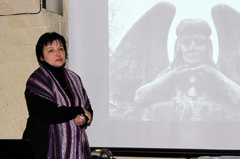 The Nikolaev historians, archeologists, journalists, public figures, teachers and students discussed perspective cultural and historical projects which could attract the mass of tourists to Nikolaev. So, on Saturday, March 16, public organization «M_STO 2050» I carried out I will meet «Pecha Kucha: To open the city to tourists» , on which 7 speakers told about projects which can be realized in Nikolaev and allow to expand a granting range in Nikolaev of cultural services and to attract a new wave of tourists to the city.
So, the archeologist, the director Scientifically - the research Curved Seashore of NAN of Ukraine center Kirill Gorbenko told about problems and prospects of excavation of the ancient ancient settlement «Wild Garden» times of Trojan war which is investigated 20 years on the bank of Ingul, in the center of Nikolaev on Naberezhnoy Street.
- Today I represent on the one hand distressful, and with another, I consider, the perspective project, - Kirill Gorbenko speaks. - «Wild Garden» for a long time I became peculiar «brand» , unique object known around the world. Therefore the city authorities and the public need to use the best efforts for preservation and a muzeefikation «Wild Garden» , which at the same time would protect it and gave the chance to examine this unique object, to inhabitants and city visitors.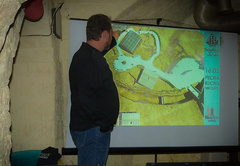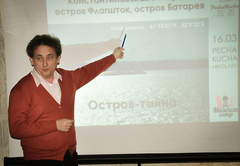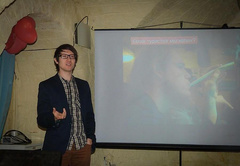 According to him, in the modern center of Nikolaev, on the river coast Ingul the remains of dwellings, temples and defensive works of the ancient ancient settlement - outstanding sight of the all-European archaeological heritage remained. As reported in a press - service of public organization «M_STO 2050» , Kirill Gorbenko also gave examples of the archaeological museums open-air in Russia, Bulgaria and Greece. Besides, I reminded the next Odessa where on Primorsk the boulevard under a glass dome it is equipped mini - the archeology museum.
The journalist Vyacheslav Golovchenko submitted the report on other unique feature of Nikolaev–about the artificial island in the water area of the Southern Bug.
- I consider that inhabitants of Nikolaev were very lucky.After all there aren't a lot of cities in the world, even sea where in water areas there would be islands. We have such island, the truth is created artificially–to it slightly less than 160-ти years.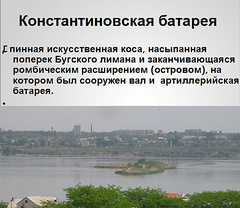 The presentation the journalist designated «The island - secret» , because details of its emergence though are known to historians, but are unknown usual citizens. Thus, kind one hundred years as the island suits children not less, than the Nikolaev catacombs.
It is known under different names: island Battery, Konstantinovsky battery, island Flagstaff, etc. The island arose as object of fortification after falling of Sevastopol during the Crimean war. It was created in 2 months in the middle of the river the Southern Bug opposite to present seaport.
During discussion of the report, the head of the security department of a cultural heritage of the Nikolaev City Council Irina Bondarenko took an interest as a large number of visitors will be reflected, together with infrastructure necessary for them on a condition of the island.
- Some years businessmen took the initiative to equip the island: to put there tents, umbrellas. Whether will lead it to final destruction of this object?–she asked.
According to Vyacheslav Golovchenko, cooperation of muzeefikator and business has to be based on common sense.
- It is rather this, on the island it is impossible to put tables, chairs, umbrellas and other. But after all it is possible to establish them on water–on a pontoon, - Golovchenko answered.
The following report was presented by the representative of public organization «ART-optimists» Nikita Khudyakov who told about prospects of creation of the Museum of Modern Art as an element of a cultural cluster in Nikolaev.
- I consider that in the project «Museum of Modern Art» there is a potential for involvement of tourists to the city. If we really speak about attraction to Nikolaev tourists, we need to reflect, why and which tourists are necessary to us. I consider that the tourist travels for the sake of impressions which he sometimes can receive much more from the modern art, than from soft drugs as, for example, in Amsterdam, - he tells.
According to Nikita Khudyakov, Nikolaev–it is plasticine, the city which is rather easy for changing. In his opinion, in such cities as Lviv, Odessa and Kiev a lot of things are already predetermined, these cities cultural settled. And in Nikolaev thus there is a huge potential.The catalyst of city changes it sees a cultural cluster–special space for creativity which could be organized in empty plants and the factories, remained to nikolayevets in heritage of the post-industrial past.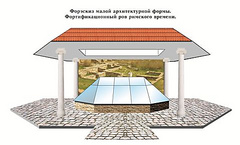 In turn, the member of the Union of archeologists of Ukraine Alexander Smirnov told that not so long ago, in the historical center of Nikolaev, near new museum of local lore «Old naval barracks» the remains of a ditch which was part of strengthenings of the Roman camp of 3 centuries B.C. in this territory were found.
He suggested to establish on this place a small arbor in the Roman style with a glass dome under which it would be possible to preserve one of excavation sites in its original state. According to Smirnov, such project by their estimation would cost to Nikolaev all in 120-140 thousand hryvnias.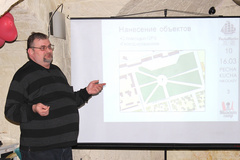 The project on court of the public was submitted by also Nikolaev expert in digital cartography, the teacher of ChGU of a name of Pyotr Mogila Boris Saltovsky. He told about practice of use of modern technologies, in particular electronic cards and GPS for creation of multimedia sightseeing tours.
As it was, technically, such excursions already are quite available to owners of smartphones.
- You can include a special application on the smartphone, dress earphones and walk around the city, listening to story of monuments, for example architecture by which you go, - the teacher explains.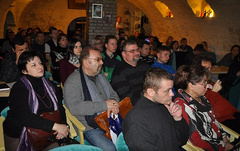 The senior research associate of regional museum of local lore Tatyana Gubskaya who actively is engaged in studying and preservation of an old city cemetery–was the following speaker «Necropolis». It began with own impressions of stories of the nikolayevets who have come back from foreign travel.
- Those who come from Europe tell about how it is beautiful on local cemeteries. I want to tell you that the Nikolaev necropolis on beauty of sculptures and architecture at all doesn't concede foreign, - Tatyana Gubskaya speaks. - This place of rest of tens Nikolaev admirals and outstanding figures of the city. And recently, to a necropolis show the increasing interest and nikolayevets, and city visitors. It becomes a demanded excursion route which needs to be rescued from further destruction, - she added.
It is known that today Nikolaev «Necropolis» has the not the best times. According to Gubskaya, it not that has today no status as object of a cultural heritage, it even simply is protected by nobody, from - for what crypts and monuments are constantly plundered.
The student of specialty «was the last lecturerHistory» ChGU of a name of Pyotr Mogila Irina Lakutina who told about need of informal tourist routes for Nikolaev. According to the student, in the city there are a lot of specific legends and juicy stories which would be interesting and easily remembered to inhabitants and guests of Nikolaev.
In her opinion, it is necessary to collect all Nikolaev myths and stories about sacrality, catacombs, the Imperial carriage and other interesting moments in the uniform guide which colourfully and not dull represented Nikolaev.
We will remind as earlier it was reported, archeologists and historians declared more than once that if to the ancient settlement «Wild Garden» and to old city cemetery «Necropolis» the authorities won't give the special status of a historical and cultural instruction, these objects as a result can be completely plundered. However, today these historical objects and remain not necessary to the state.