The Bayadera group of companies carried out restyling of bottles of six positions of the TM "Koblevo" dry wines: Merlot, Cabernet, Saperavi, Chardonnay, Traminer Koblevo, the Riesling, reports openbiz.com.ua.
As the director of development Yaroslav Berestenko, the main task of restyling - accurate detuning of a line of dry wines in the wide product range made under TM "Koblevo" reported. It is necessary in order that "to pave the way" for formation of the European culture of consumption of dry wines in Ukraine.
The patented pattern from the rhombuses, "having directly something in common" with the Koblevo logo became "highlight" of new labels. For its drawing the stamping by gold and UF - a varnish is used конгрев. The bottle of a new form is executed from glass of a deep olive shade. Such course allows to emphasize a blagorodnost of dry wines, gives them the status and belonging to the Sommelier series.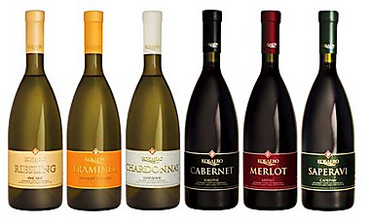 "It is known that in Europe prefer to drink dry wines, and the culture of consumption of wine is created long ago, - Yaroslav Berestenko makes comments. - Wine is a special drink and the attitude towards him has to be exclusive. As for Ukraine, allocation of a line of dry wines is a certain step forward which is urged to lay the foundation to formation of culture of consumption of wine in our country".
The Koblevo plant has own vineyards (more than 2300 hectares) which are located on fertile lands of the reserve of Tiligulo (The Nikolaev area). In 2008 150 hectares of vineyards are landed in addition, the third line on flood of wine of Bertolaso firm (Italy) is put into operation, the wine storage on 3 million liters (total amount reached today 15 million liters) is expanded.