On Sunday in Argentina Round de San Luís - week cycle race which became baptism of fire for Ukrainian - an Italian team of Team ISD came to the end.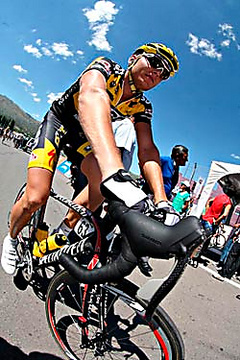 Together with three partners in team, Italians Oskar Gateaux and Alessandro Proni, and also the compatriot Dmitry Grabovsky Andrey Grivko traveled about across Argentina and nikolayevets. At the first stage 168 kilometers long our fellow countryman finished on 23 - m a place, having shown at one time with the winner - Italian Mattia Gavazzi from Diquigiovanni.
At the second stage (174 km) Andrey Grivko closed чертову dozen, having conceded to the winner, Argentinian Loukas Hayedo from Colavita Sutter Home, 2 minutes 40 seconds. Adding every day, at the third stage - cutting (19,8 km) nikolayevets took the fifth place. Its loss George Djaquinti made of Argentina national team 22 seconds.
At the fourth stage (159 km) Grivko finished 12 - m and lost to Colombian José Perez (Diquigiovanni) of 6 seconds.
Nikolayevets finished the fifth stage (204 km) 13 - m, having conceded to Spaniard Javier Tondo (Andalucia-Cajasur) of 37 seconds.
At the sixth stage (121 km) stable Grivko again 13-й, and lag from Cuban Luís Amaran (Colavita Sutter Home) made 48 seconds.
Final, the seventh, the stage (167 km) was won by the Argentina racer Juan José Hayedo from Saxo Bank. Andrey Grivko held the fourth line in general classification, and de San Luís Argentinian Alfredo Lusero from a national team won in Round.