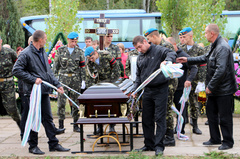 The acting as the mayor of Nikolaev, the secretary of the City Council Vladimir Korenyugin buried on the central avenue of a city cemetery near a grave of the town governor Vladimir Chaika.
About it from a place of events the correspondent «reportsCrime. Is NOT PRESENT».
With a valedictory on a cemetery the first deputy mayor of Nikolaev Yury Andriyenko, the chairman of regional council Igor Dyatlov, the head of fraction of Party of Regions in the City Council Alexander Demyanov, the head of the Lenin rayadminstration Yury Granaturov acted. The governor of the Nikolaev area Nikolay Kruglov was present on a cemetery, however didn't act.
It is known that Vladimir Korenyugin died in the morning on September 24 in an office of city policlinic No. 2 of Nikolaev.
Civil memorial service took place in the hall of the Nikolaev regional state administration from 11:00 till 13:00. After that colleagues said goodbye to it at the city hall building.
More than half a year back from a repeated heart attack with Vladimir Chaika came to an end, then Korenyugin became the acting as the mayor of Nikolaev.