The plane with an inscription "Yushchenko, a suitcase, America" which representatives of KPU "illustrated" an action of public disobedience on the Independence Maidan on February 23 and which had opportunity freely to photograph all prisutstvovashy that day in the capital center, actually is "awfully confidential", can be only on special air bases, and only in Zaporozhye, and can't be taken out from there under any pretexts.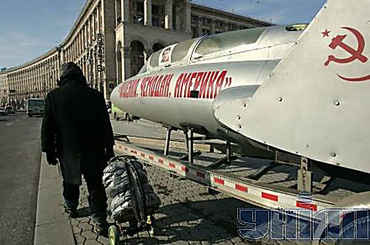 Such statement on air of the Schuster Live program on Broadcasting Company "Ukraine" was made yesterday by one of hosts Pyotr Maga, referring to source data.
"To me yesterday called from Zaporozhye. Here this plane by which communists wrote yesterday "To Yushchenko, a suitcase, America", is a training plane "L-4 101". Secret which is on special air bases only in Zaporozhye. And it is impossible to take out it from there under no circumstances. As it got here and who brought it is very big question".
It is interesting that this "painted under Yushchenko" the plane for the first time appeared on the action organized by communists in Zaporozhye. Then it carried to Donetsk... However, for mass media then it appeared in information as "plane L-29", instead of "L-4 101".