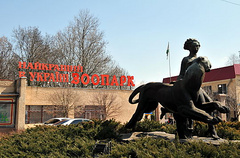 Animals of the Nikolaev zoo the third month feed on credit, a diet to them reduced by 50%, thus some products which are necessary, in general aren't present.
About it there is a speech in a plot «Nadzvichaynikh новин» on ICTV TV channel.
As the debt to the supplier about 400 thousand hryvnias is noted in a plot. The treasury as this municipal establishment, but there say has to transfer money that they have no funds for these items of expenditure. The greatest problem with meat, it remained for only four days. Half a year animals don't see wheat, honey and nuts. At many animals already problems with a stomach. If not the free help of supermarkets which free of charge give to a zoo the overdue products, some animals any more wouldn't be, than to feed.
In order that though as - that to help a zoo nikolayevets decided to arrange «powerful flashmob» on Saturday, March 15.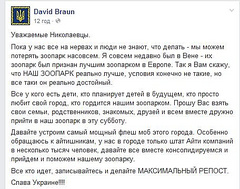 As the user of David Braun, «calls on the page on the social network Fecebookwho has everything children who plans children in the future who simply loves the city who is proud of our zoo, to take the families, relatives, acquaintances, friends and all together amicably to come to a zoo this Saturday».
«While we have all on nerves, and people don't know that to do - we can lose a zoo for ever. I quite recently was in Vienna - their zoo was recognized as the best zoo in Europe. So I will tell you that our ZOO really better, conditions, of course, not such, but all - it really worthy. Let's arrange the most powerful flashmob of this city. Especially I address to IT specialists, we have in the city only an aytikompany staff in some thousands of people, give everything together we are consolidated and we will come, and we will help our zoo. Everything who goes, register and do the maximum repost. Glory to Ukraine! ! ! !» - he wrote.