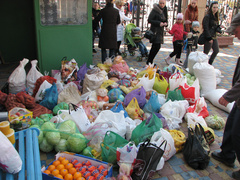 On a request of the Nikolaev zoo to help starving animals more than 10 thousand residents for two days off responded on March 15-16.
About it «Crime. Is NOT PRESENT» reported in the establishment.
- The administration of a zoo expresses huge gratitude to all active participants of the help to our animals! We thank all who supported and it is information!–declared in a zoo.
According to information establishment, today warehouses of a zoo are filled, and to avoid damage of products, the administratsiiya of a zoo asks people while to suspend their supply in a zoo.
- We very much hope that financial position of our zoo, really pearls of our city, will be restored. For now, to us very much your help, dear compatriots is necessary, important and expensive! Tomorrow, on March 17, after 14:00 administration of the Nikolaev zoo will report about exact amount of your charitable help within this action, - it is spoken in the message.
We will remind, earlier it was reported that because pets of the Nikolaev zoo from - for blockings by treasury of its invoices for payment of products, were on the verge of hunger, on Saturday, March 15, since the morning nikolayevets were built in turn before zoo cash desks to buy the ticket, and tens people brought bags with vegetables, fruit, hay, nuts, honey and other products within a charitable event.
The flow of people in a zoo proceeded and on March 16–today people again brought the mass of packages with products for animals, and bought tickets and went on walk on an institution.