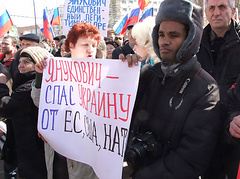 One of members so-called «self-defenses» The Crimea Benes Ayo was noticed on meeting in support of ex-the president of Ukraine Victor Yanukovych in Donetsk.
So, on March 20 Russian edition «Lifenews» published the story about «black inhabitant of London» Benes Ayo who decided to come into force «self-defenses» The Crimea also I arrived to Simferopol. Allegedly Benes who Russian called by mass media Ben - an anti-Maidan, «directly from England» I arrived to the Crimea, that «to resist to provocations of the Ukrainian radicals».
Also it is noted that Benes is the supporter of party of Eduard Limonov «Other Russia» (radical movement National - Bolshevist and nationalist sense, the motto «Russia–everything, the others–anything» ).
Benes's father–the representative of a tribe ланго from Uganda, mother–sort from Russia which moved to Latvia. Benes in Latvia, there was born and grew up and joined the ranks «Limonov supporters». Itself «Benya» allegedly I arrived to the Crimea, that «to Banderovites life sweet didn't seem» also says that «always I felt as part of the Russian world and I am ready to protect it in the Crimea».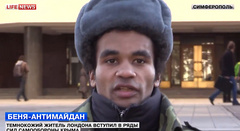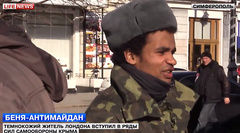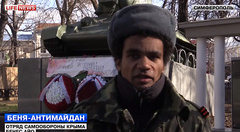 «Behind shoulders the young guy already has a trip to Palestine as a part of humanitarian mission where more than once it was necessary to turn aside from bullets when the Israeli security officers dispersed demonstrations» , - writes «Lifenews».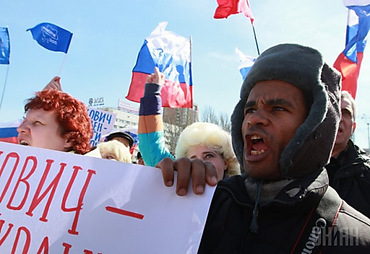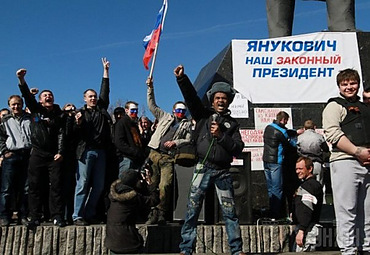 In Simferopol Ben - the anti-Maidan allegedly patrolled streets–I went on the capital of the Crimea in a camouflage and I drank tea. According to the Russian edition, now Benes hopes that after «self-defenses» it will accept in ranks of the Russian army.
However, in the afternoon on March 22 Benes noticed in Donetsk on meeting in support of Yanukovych. Edition «News of Donbass» published its photo– «black inhabitant of London» I held the poster and I acted as the photographer.