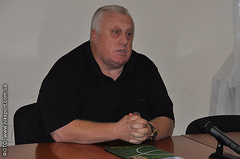 Former defender of IFC «Nikolaev» Roman Adamenko told that instead of the promised salary received in club only promises. He blames for financial disorders and frauds vice-the president of club Oleg Kirshov and ex-the head coach Oleg Fedorchuk.
About it writes «Nikolaev soccer» with reference to the site «Matchday».
So, the football player complains that the management of club only fed players with promises and instead of salaries occasionally gave small sums.
- According to my agent there had to be a salary of 8-10 thousand hryvnias, plus 50 thousand hryvnias–bonus on team in case of a victory. Then the already specifically Fedorchuky such figures were declared that players of a starting lineup will receive 8 thousand hryvnias, the others–6 thousand, well and youth 3-4...
- Convinced, of course, each 2-3 weeks said that since Monday a salary. In it is that all and a problem. Children too start calling and saying to families that here supposedly promise to give on Monday a salary, already think that to the family to bring, reached up to such absurdity that when there was a game with FC «Poltava» , to us vice-the president promised to bring money to Poltava. Naturally, anybody brought nothing. Received money, when game with «Bukovina» transferred–500 hryvnias on a way home, because distances three days off. Then received once on 100 dollars when the course 13 was. And after the last game before a winter break received again on 500 hryvnias on a way home because it is real there is nothing was to go. When on 100 dollars received, vice-the president told us that he one katerok sold it. The latest promise was that before New year will extinguish debt for five - six months and will give the bonus... - Adamenko speaks.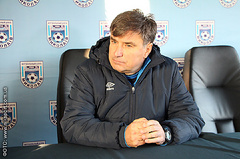 According to the football player, Fedorchuk declared to him that «he brought the vice-the president into soccer». Now Kirshov has a press and all documents of club–i.e. control over IFC.
- In team there is information that for those half a year while we played free of charge, Fedorchuk and three more football players got paid with «left» accounts…Yes I as if already also released it everything, but today I was called back by the person concerning club and added information. It, to put it mildly, revolted me. I ring round children, since Monday I bring together all in Kiev, and we go to write papers to FFU.
-…still the hitch is that is stated in the contract «minimalka» 1 thousand 300 hryvnias, but are in words stipulated other sums. By the way, except other, an occasion to think for tax, - Adamenko added.
Also he is revolted with actions of Fedorchuk who didn't help football players whom he brought into team.
- So much talk was... It was declared that or we together and up to the end, or that the club won't be, or it will help us to look for teams. As a result anybody helps nothing to anybody.
Roman Adamenko provided the copy of the document which the management of club suggested to sign in exchange on a rupture of the contract and return of documents to the football player. Roman understands that, considering point 4 «ї please Dodatkovo to the contract...» , he will hardly be able to achieve any punishment or to receive unpaid money, but decided to shed light on the events in club for the football public.
We will note that during Oleg Kirshov's stay at the head of IFC «Nikolaev» (since winter of 2014) the club stayed in continuous financial crisis and now once again it was on the verge of disappearance, can remove tournament points from it. Demanded to replace the management of club also ex-players «Nikolaev» and the ultras, but Kirshov kept on the place.