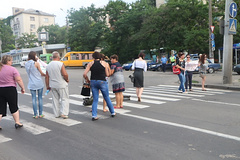 On Friday evening, on July 25, wives and mothers of the military personnel 79-й airmobile crew which at present are in a zone of carrying out Anti-terrorist operation, made the decision to block off traffic on Varvarovsky Bridge in Nikolaev. Native paratroopers demand a conclusion of the husbands and sons from the territory of operations, to provide them "corridor" for an exit from an environment, and to give holiday to the military who have stayed in zone anti-terrorist operation more than two months.
They declared it on Friday, July 25, about the building of the Nikolaev regional state administration, the correspondent «reportsCrime. Is NOT PRESENT» from a place of events.
Initially about 100 women and girls with posters «Vryatuyte of ours хлопців» protested tease buildings YEAH. After a short protest they were divided, thus part from them as a part of 40 people with bags remained near administration to wait the bus to go to Kiev where they plan to visit either Presidential Administration, or the Ministry of Defence.
According to data a press - State traffic inspectorate services in the Nikolaev area, at present traffic of motor transport is now blocked off and seriously complicated on streets Big Sea, Nikolsky, Pushkin, Veselinovsky and to Geroyev Stalingrad Avenue.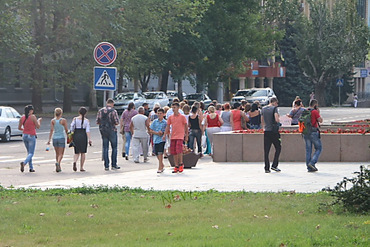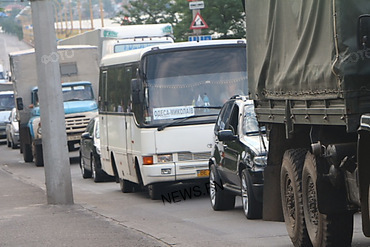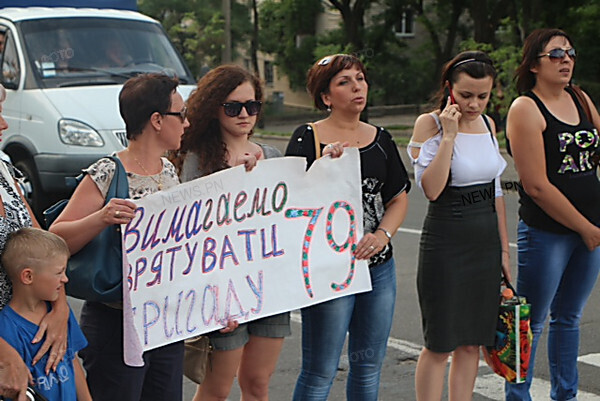 Other about 30-40 people moved forward to Varvarovsky Bridge where they plan to pass constantly on the crosswalk, having blocked off thus traffic on the route of the international value «Odessa - Melitopol - Novoazovsk». The reason for that was that neither letters, nor statements, according to women, can't help their native at which more than a week fire systems of volley fire «Hail» , located in the territory of the Russian Federation.
- We pass to more radical methods, - the wife of one of the Nikolaev paratroopers declared.
Information is updated. Chronology from below up.
01:00On laid routes I could break and the deputy of the Nikolaev city council, the head of fraction of Party of Regions in the City Council Igor Kopeyka who all this time was on a place. After on a lawn passed some more cars, protesters started over again to it to be indignant and try to interfere.
00:45Some drivers who appeared in a stopper, began to break on a lawn, passing "cordon". Protesters react to it is constrained - not as earlier. Already about 10 cars could break towards Odessa.
00:10 Poroshenko's words couldn't convince wives and mothers of the Nikolaev paratroopers - they threaten to block all departures from Nikolaev.
Wives and mothers of the military personnel 79-й airmobile crew which at present are in a zone of carrying out Anti-terrorist operation, made the decision «to block» all city of Nikolaev.
They declared it after heard about results of communication of the governor Nikolay Romanchuk with the President Poroshenko.
22:40From time to time there are conflicts between drivers and their passengers who have got stuck in «to stopper» from - for bridge blockings. People reproach protesters that from - for their actions they can't get home where someone still had children, with someone sick mother. In reply wives of paratroopers speak about the husbands who are in a zone of operations. The militia which calms people tries to solve the conflicts.
22:15 The letter to the president everything is signed and Romanchuk promised to women to send it to Kiev on specialchannels. In two hours when the letter will be in the capital the governor I promised to report to protesting women.
Also to the place of events there arrived the mayor of Nikolaev Yury Granaturov.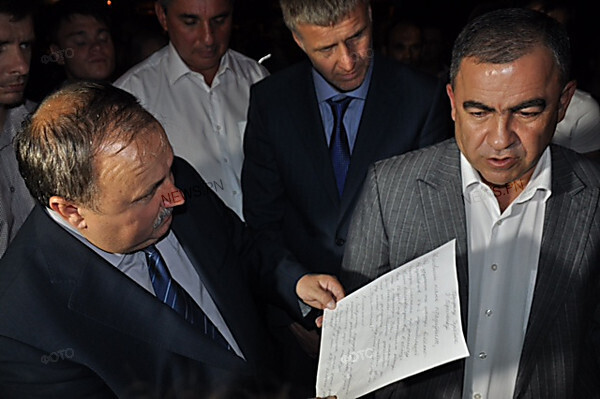 According to him Ingulsky Bridge "is overloaded" at present - many drivers in connection with blocking of the bridge made a hook and went to the city some other way.
22:05As a result one of protesters wrote the letter to the president with the requirements stated below and suggested other wives of paratroopers it to sign. However many of them refused to make it, having called the address to Poroshenko «one more letter» , which a little that will solve.
Also protesting women suggested to move armored machinery from posts in Nikolaev to zone anti-terrorist operation.
21:52One of the most active women stated to Romanchuk everything that she thinks of current situation. Also it announced requirements of protesters: to organize real «corridor» for fighters 79-й crews that paratroopers brought out of an environment with support of other divisions and armored machinery; after that to the paratroopers staying in zone anti-terrorist operation more than two months, have to grant 10-dnevny leave that they could have a rest from continuous attacks.
According to the woman, paratroopers are ready to be at war and protect the Homeland, but not «underground, in entrenchments, under the attack continuing 24 hours per day».
Romanchuk told that provided to other wives of paratroopers the bus for a trip to Kiev, and to women blocking the bridge suggested to create the initiative group which all requirements will issue in the form of the letter addressed to the president of Ukraine Petro Poroshenko.
Women agreed on it, but didn't cease to block the bridge. Meanwhile again there was a verbal sparring between protesters and the people dissatisfied with that traffic on the bridge is blocked off.
21:34To the place of events, nearly three hours later after the beginning of blocking of the major route of the international value, profit the governor of the Nikolaev area Nikolay Romanchuk and his deputy Alexander Boltyansky.
21:30Five cars broke through a chain of protesters, having gone round them on a lawn. Women began to catch up with them, to beat cars feet and to throw in them bottles, but cars left towards Varvarovki.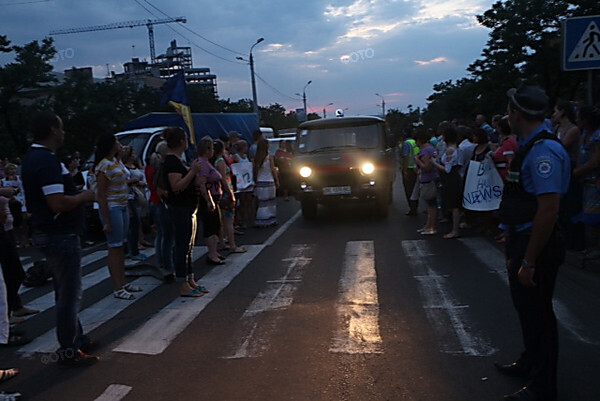 20:50 The mayor of Nikolaev Yury Granaturov in the comment "Crime. Is NOT PRESENT" I reported that won't arrive to the place of events.
- Well I am not responsible for it, - Granaturov told.
According to him, he now is engaged in the organization of a funeral of the general Lyutikov.
20:45Wives of paratroopers pass by cars with military and applaud of. Also they passed the car in which there were a priest and the military. From the last demanded to show the certificate and on the camera to declare at what exactly Russia fires from installations «Hail» the Ukrainian military, the Nikolaev paratroopers on Donbass.The military fulfilled requirements of protesters.
At this time one of women started shouting that is yet authentically established that military are fired by Russia, but at it started shouting and militiamen took the dissatisfied woman aside. It appeared a sort from the Western Ukraine, but the citizen of Sweden.
20:35Relatives of paratroopers continue the protest action, all of them still block journey through Varvarovsky Bridge. None of authorities didn't arrive yet to them.
Protesting women faced a misunderstanding wave from passersby, people who got stuck in «to stopper». Many of citizens shout at holding a meeting wives of paratroopers, demand from them to free the drive, appealing that can't reach to the children, which «stay at home hungry». Also to wives of military specify to go to hold a meeting to Kiev.
Police officers try to extinguish the continuous skirmishes, many people dissatisfied with protest action, take away from a place of events in order to avoid conflict development.
20:09Meanwhile, women continue to go on the crosswalk, chanting: "12 days under the Russian Hail", "79-ая crew under attack", "We want to see children and husbands live.
Periodically the indignant people approach to them and enter with participants of an action skirmishes.
20:00To the place of events there arrived the military commissioner of Nikolayevshchina Alexander Ivanov. According to him, he can't solve a situation with paratroopers, but to military have to grant leave soon.
19:57One of the women who have blocked transition called the brother - the paratrooper who is in an environment and told: «Children hear us. We will rescue you soon».
19:55Police officers copy numbers of all cars getting stuck in a traffic jam in order that it was possible to involve later drivers as witnesses of overlapping of the road. One of drivers was indignant with militia actions. He responded with sharp refusal to the offer to testify against women:
- You want that I together with them got up?
None of authorities to the place of events didn't arrive yet.
19:50There was one more conflict:two men obscenely addressed to the women who have blocked the road and told them, it is necessary what to protest not in Nikolaev:
- On the Maidan it is necessary to stand in Kiev, instead of here in Varvarovke water каламутить.
19:43The Nikolaev GAI asks drivers to correct the routes taking into account that traffic through Varvarovsky Bridge is blocked off.
«Because at present traffic of vehicles on the bridge through the river the Southern Bug is blocked off, the State traffic inspectorate of the Nikolaev area appeals to drivers to correct the route of movement in order to avoid jams and steadily to observe traffic regulations» , - there is a speech in GAI message.
Women pass military cars and ambulances - more essentially anybody.
As of19:32none of representatives of the authorities didn't arrive to the place of bridge overlapping where there was a transport collapse. Meanwhile it is known that at present the chairman Nikolayevskoy YEAH Nikolay Romanchuk meets other mothers and wives in the building of regional administration who were going to go to Kiev to strike.
19:30Staff of GAI blocked off traffic, beginning from the intersection of streets Pushkin and Nikolsky. Meanwhile passengers of buses and «minibuses» leave vehicles and go on foot on the bridge which is already full of people.
19:25One of drivers approached in the wife who has blocked the road of the military and tried to pull out at it from hands the poster. That in reply hit it on a face. As a result of the driver police officers took aside.
18:55Into place the chief of a municipal government of GAI Vyacheslav Romanov approached, says that it can't promise to return to women children from zone anti-terrorist operation supposedly here if the governor Romanchuk approached.
Meanwhile in a stopper the deputy of the Nikolaev city council Igor Kopeyka stands idle, the car left, but to women doesn't approach.
18:45 Women passed one military vehicle, decided that military will pass, and the driver - the grandfather with whom the grandson of Home Alone remained. They long didn't let, part from them drew that it is necessary to be basic and to let nobody, and others on the contrary.
The part of women costs on transition, the part constantly on it goes. Chant: «Rescue our guys!». One of women told that it is necessary to protest so six hours, differently result won't be.
On a place there are police officers, but they don't interfere.
18:35Relatives of military blocked the route, having come to the crosswalk before entrance on the bridge from the city. Put before itself the destroyed iron keg and almost burned national flag of Ukraine which were brought from zone anti-terrorist operation by paratroopers. Developed posters «Rescue our guys» , «We demand to rescue 79-ю crew». Periodically there are skirmishes with drivers. One driver left and reported that he has a plane ticket, but from it didn't follow any reaction. Rather big stopper was already formed of cars in which regular buses, the military car stand idle.
We will remind, earlier it was reported about how relatives of the Nikolaev military expressed readiness to go in zone anti-terrorist operation to take away from there the guys at whom already more, than week fire system of volley fire «Hail» from the territory of Russia.
Women declare that our fighters are thrown by the highest military command on an arbitrariness without any help and a reinforcement.