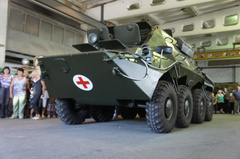 On Tuesday, July 29, GP «Nikolaev armored plant» I transferred to the order 79-й the Nikolaev separate airmobile crew which protects territorial integrity of Ukraine in fights with terrorists on Donbass, an armored medical car of BMM-70 of own development.
Earlier it was reported that BMM-70 which has received the name «Saint Nikolay» - it is wheel, armored, floating medical car, developed GP «Nikolaev armored plant» on the armored personnel carrier-70 base. It is intended for service and transportation of seriously wounded from remote areas, zones of accidents, natural disasters and military operations. BMM-70 is equipped with the power plant from two petrol engines, has a stock of a course of 400 kilometers.
So, the deputy commander 79-oh crews the lieutenant colonel Ivan Savka thanked the staff of plant and noted that this car will save not one life not only the Nikolaev paratroopers, but also fighters of the Ukrainian army.
- The car is equipped with the medical equipment for first-aid treatment. Besides, in it it is possible to do necessary urgent operations for rescue of life of the military personnel, - Savka reported.
At the same time, the lieutenant colonel emphasized that similar bronetenkhnik at the fighters who are at war in zone anti-terrorist operation, still wasn't.
As the senior lieutenant and toldthe medical officer, among the main injuries with which the Ukrainian military from a battlefield arrive, gunshot wounds, minno - explosive injuries are, from - for what the necessity of amputation of extremities is often caused. Now similar operations can be done in armor «fast».
At the same time, acting as director «Nikolaev armored plant» Alexander Shvets reported that the plant can design in case of need similar armored vehicles in a short time, but while means on such «ambulances» for military it is necessary to find at sponsors - businessmen as in the Ministry of Defence orders for such armored vehicles don't do in connection with shortage of money in the state.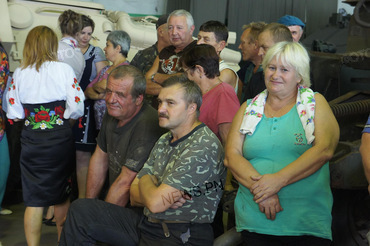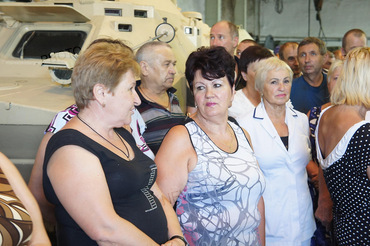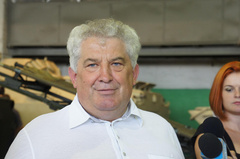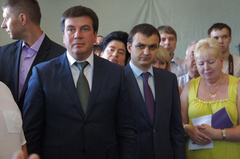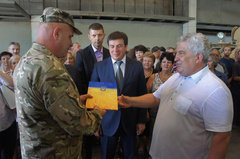 Also on delivery of an armored medical car of BMM-70 there was a presidentns deputy chief of staff of Ukraine Gennady Zubko, the governor of the Nikolaev area Vadim Merikov, ex-the governor Nikolay Romanchuk and the head of the Nikolaev regional council Taras Kremin.
We will remind, earlier it was reported that Nikolaev paratroopers, holding one of «heights» on border of Ukraine with Russia, declared that aren't going to be given Russia.