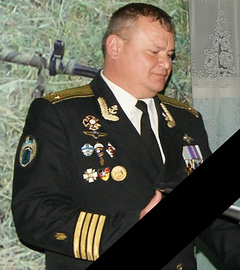 In a zone of Anti-terrorist operation on Sunday, August 17, the commander 73-го the sea center of a special purpose the captain of the second rank Alexey Zinchenko was lost.
About it «Crime. Is NOT PRESENT» it became known from reliable sources in the Ministry of Defence of Ukraine.
In addition it became known that the day before, one of subordinates Zinchenko also was killed in battles with terrorists. Details of the incident become clear.
As it became known later, Zinchenko and his subordinate were killed in battle with terrorists in vicinities of Donetsk. In total during ATO Ochakov "seals" lost the killed of three fighters - before August 17 carried out to a final journey of the member of spetsnaz Dmitry Krasov, which I was lost during release of the village on Donbass.
Reference:
73-й sea center of a special purpose–the part of special investigation of Voyenno - Naval Forces of Armed Forces of Ukraine, is created on the basis of the former seventh separate crew of SPO Naval Forces of Ukraine. Is based in the city of Ochakov of the Nikolaev area in military unit No. 1594.
This division founded more than 60 years ago is elite in Armed Forces of Ukraine and is intended for carrying out prospecting actions; implementation of diversions; minings and mine clearing; capture of objects, including opponent's ships.