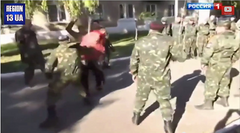 The Russian mass media told, their so-called «Cossacks» , at war on the party of terrorists on Donbass, punish the fighters public flogging.
It is told about it in a plot of the Russian TV channel «Russia 24».
So, the guide of the Russian Cossacks who are at war for terrorist «To Novorossy» I punish the soldiers for a booze and fights by public flogging by a lash. Such as theft terrorists punish the subordinates for more serious crimes by beating by sticks.
We will remind, earlier it was reported that in terrorist «To the Luhansk People's Republic» the Russian terrorists who call themselves «Cossacks» , continue to bring the orders. Now they started arranging in Anthracite public floggings on a central square of the city.