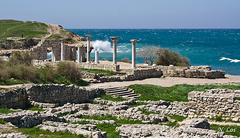 The president of Russia Vladimir Putin disposed to include the reserve «Chersonese Taurian» in federal maintaining and to include it in the list «especially valuable objects of cultural heritage of the people of the Russian Federation».
The relevant documents will be transferred «governor» Sevastopol in the government of Russia till September 1, the press - services of the Kremlin is told in the message.
Thus, newspaper «Mirror of week» notes that such decision followed right after scandal with appointment of the new director of the reserve «Chersonese Taurian» priest, Sevastopol district of the archpriest Sergey Halyuta. Explaining the choice, «governor» Sevastopol Sergey Menyaylo noted that «Chersonese has to be a place bow, pilgrim, but not simply tourist».
Workers of the reserve sharply protest against such decision and urge to refuse it as the person far from science, they consider, can ruin an architecture monument. About it they asked in the statement published on the official site of the reserve.
It is remarkable that in 2013 «Chersonese Taurian» it was brought in the World heritage of UNESCO, however after annexation of the Crimea and its international rejection there was information that UNESCO can include Chersonese in a black list.