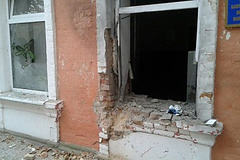 Today, on October 7, about 3:00 nights there was an explosion in the city of Belgorod - Dniester Odessa region at the building of a local military commissariat.
Eyewitnesses on a social network report about it"VKontakte".
So, on preliminary to data the part of the building and a window Belgorod - the Dniester military registration and enlistment office on Pervomayskaya Street is damaged.
Also it is reported that incident did without the victims. The street is blocked by law enforcement officers. Work at a place cynologists and experts - bomb experts.
At the same time, according to department of public relations of GUMVD of Ukraine in Odessa region, after carrying out check guards established that worked the 200 grams shell-less explosive device in a trotyl equivalent.
The explosive device was on a window sill from outer side of the building. As a result of explosion the military registration and enlistment office window was damaged.
On this fact investigation is made. Preliminary legal qualification - ch.2 Art. 194 ( «Deliberate destruction or damage of property» ) Criminal code of Ukraine.
We will remind that powerful explosion the center of Odessa around 5:00 woke. Unknown enclosed explosive at the SBU building on Evreyskaya Street. In militias blasting building of SBU qualified as act of terrorism.