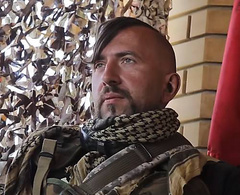 Near Donetsk the opera singer Vasili Slipak who long time has diedI lived in France, and after the beginning of ATO I have gone to the front the volunteer.
The journalist Yury Butusov reports about it in Facebook.
«We will incline the heads, citizens. The big Ukrainian has died today, protecting the Homeland and each of us…Vasili Slipak, the opera singer with a world name who lived 19 years and worked in France in the Parisian opera, but from the beginning of the Russian aggression has given up the European career and has returned to protect the Homeland, has died near Donetsk in ranks «at the frontRight Sector». The soldier - the volunteer Vasili Slipak became a sample of the citizen and patriot» ,–he has written.
We will remind, fighters earlierattacked positions the Ukrainian military in Zaytsevo–the fighter 53-й crews has died.