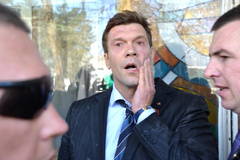 Oleg Tsarov declared creation «Novorossiya's republics» on the basis of 8 areas of Ukraine.
In interview to the Russian TV channel Lifenews he declared that the new created education will enter Odessa, Nikolaev, Kherson, Zaporozhye, Donetsk, Lugansk, Kharkov and Dnepropetrovsk areas.
According to Tsarov who allegedly is in Lugansk area yesterday meeting «took placedeputies «old guard» , «new wave» , and also businessmen».
- National council developed questions which will be on a referendum on May 11. It will be a question «Whether you support a referendum in Lugansk area?». With same to questions will pass a referendum in Donetsk region, - he declared.
- We brought together mayors of the cities, all mayors told that will execute commands, are engaged in a referendum, - Tsarov told.
As a result of these referenda, according to him, there have to be Lugansk and Donetsk republics. Late referendum allegedly have to hold in other areas.
- If she is supported only on Hugo - the East, apparently, it will be Novorossiya's new federal education. If her support across all Ukraine–that it will be the new federal republic, - declared ex-the candidate for president of Ukraine.
According to him, «Novorossiya» will settle down in borders of the Novorossiysk province.
We will note that during a telemarathon Vladimir Putin, the president of the Russian Federation, on a question, as to stabilize a situation in Ukraine, I declared that the most important in this problem is «question of guarantees for inhabitants of the East of the country».
- Question at all in it, a question in providing legitimate rights of Russians and Russian-speaking citizens of the South and the East of Ukraine. I will remind, using terminology still imperial times, it is–Novorossiya with the center in Novorossiysk. And here this here Kharkov, Lugansk, Donetsk, Kherson, Nikolaev, Odessa weren't a part of Ukraine in imperial times, these are all territories which were transferred to Ukraine in 20-ые years by the Soviet government.
We will remind, the acting public prosecutor Oleg Makhnitsky I brought representation on Oleg Tsaryov's deprivation of inviolability.
It is known that that нардеп from «Party of Regions» Oleg Tsarov assured separatists of Donetsk that will make everything for failure of presidential election, which are appointed to May 25. Also it I declared that I am ready to become the leader of separatists, created so-called «Hugo - east movement». It is known that on April 9 in Nikolaev beat and showered with eggs the candidate in Tsarov's presidents.