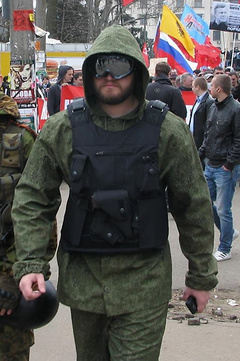 The security service of Ukraine detained the diversionary group participating in disorders in To Odessa 2 May.
About it in course the press - to conference was reported by the head of SBU Valentyn Nalyvaichenko, writes «Думская.NET».
«There was a detention of diversionary group in To Odessa under guide of the citizen Dolzhenkov, this the gang is called «Russian unity» , which personally 2 May with cynically iron rods put injuries to civilians, especially elderly people. This the gang is detained. For the leader of a gang punishment is inevitable» ,—he said.
According to mass media, at detainees withdrew 1,5 one million dollars.
It is a question, on all visibility, about the former militiaman Sergey Dolzhenkov, the son ex-heads of the Odessa institute of internal affairs Aleksandra Dolzhenkova and brother of the gurvitsevsky chief of the department of international relations of the city hall Oleg Dolzhenkov. Sergey Dolzhenkov left ranks of the Ministry of Internal Affairs after scandal—it directly in the кабинетевступил in sexual relations with minor.
As for «Russian unity» , Nalivaychenko, most likely, had in to look far right pro-Russian organization «Slavic unity» , headed by a certain Dmitry Odinov (Maydanyuk), which, as and Dolzhenkov, is an activist «anti-Maidan».
We will remind, in Odessa Arbuzova and Klimenko, exposed конвертцентр financing mass riots on May 2.