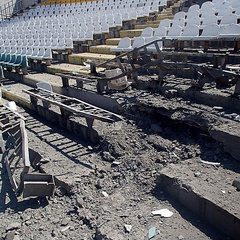 In Lugansk as a result of the mortar attack which has been carried out by terrorists of LNR, shells got to local stadium «Vanguard».
About it reports «Nikolaev soccer».
As director general of FC «Dawn» Sergey Rafailov notes that as a result of attack the stadium received essential damages:
- One of mines got to the bottom ranks of the sixth sector. Splinters damaged a board, there are three holes. There was a rupture of a mine directly on a football field. The funnel of one and a half meter in size and about 20 centimeters in depth was formed. From - for splinters round a funnel furrows of various length were formed. Besides, glasses indoors where we had monitors of video surveillance and a crisis post of militia are beaten out.
- Whether the heating and watering system suffered? Meanwhile it is difficultly to tell. At present at stadium there is no power supply to include watering…Besides, in a number of rooms are broken out. All the rest, apparently, didn't suffer.
We will note that on «Vanguard» planned to play matches of League of Europe where the local club «broke throughDawn». But considering that the city is seized by terrorists, house matches «Dawn» transferred to Kiev.
We will remind, earlier The SBU detained the mortar of terrorists «LNR» , Lugansk firing residential quarters.