Today, on April 29, some groups of children - orphans, the children deprived of parental guardianship and pupils of boarding schools could see labor everyday life of forensic expertsScientifically - research ekspertno - the criminalistic center at Regional Department of the Ministry of Internal Affairs of Ukraine in the Nikolaev area.As reportedhead of department of criminal militia for children of Regional Department of the Ministry of Internal Affairs of Ukraine in the Nikolaev area Victor Suranovich, this excursion became possible thanks to cooperation with management of science and education of the Regional state administration.
In total from different boarding schools there arrived 54 children. The group of 13 boys of 13-16 years, pupils known inwas the firstNikolaev schools of social rehabilitation on Alyaudakh.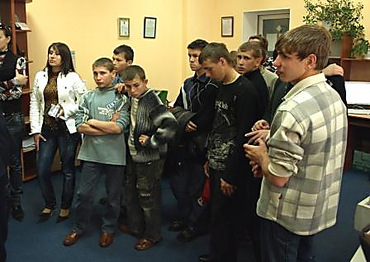 Criminalists opened to children of a door of the laboratories, and even showed that the criminal can be established on only one hair, a blood or saliva drop. Already "skilled" children with pleasure and interest listened about examinationdrugs, counterfeitbank notes, considered exhibitsweapon, bullets, sleeves and the other subjects located in ballistic laboratory. Also children looked as it is createdidentikitalso it is carried outgraphologicalexamination.
In an office "bomb experts" children were met by a dummy of the woman in a scarf, withshahids beltand with the detonator panel in a hand. As experts told, in real life it is impossible to remove it - it can be activated remotely. If "shahid" decides not to die or if she is killed before will press the panel button, the belt all the same detonates. It appears, to it fastenpulse and carotid sensors,which send a signal at cardiac arrest of the kamikaze.Moreover, experts "calmed", progress brings continuous modernizations in this belt …
But I caused special revival of "alyaudets"dactyloscopiclaboratory. Children, many of which already managed to visit alterations and "to light" the fingers, joyfully found the names or names of the brothers in a database of criminalists.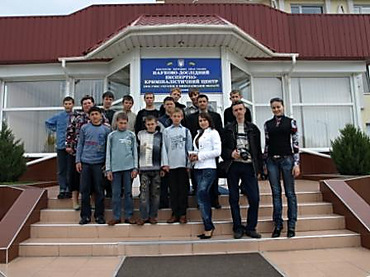 Generally, excursionvery much it was pleasant.The main thing that became clear to children - for capture of offenders criminalists have many means and methods. And life at 13 - summer boys still all ahead therefore it is necessary to become staid, and without looking back at the future, adequately to enter adult life. And let to them and with it will helpmanagementfor science and education, family and youth, and othersvlastyimushchy. Because at the children deprived of parental attention and guardianship, not so there is a lot of in life of roads …