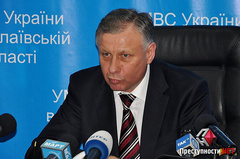 In the evening on March 31 in the Ministry of Internal Affairs of Ukraine with searches «appeared suddenly» staff of the State Office of Public Prosecutor and Security service of Ukraine.
About it reports «Observer» with reference to own sources in the Ministry of Internal Affairs.
So, searches passed at the chief of financial management of the Ministry of Internal Affairs, the head of the state enterprise «Specialservice» at the Ministry of Internal Affairs. Main thing «object» , which security officers were interested, there was a First Deputy Minister of Internal Affairs Sergey Chebotar supervising questions of personnel, legal policy of the ministry, and also questions financially - technical providing militia and some other.
«Press - the service of department densely holds information veil, approves a source. According to preliminary information, carrying out searches, perhaps, was connected with government procurements» , - writes the edition.
Sounded information on carrying out searches of Sbushnikami in the Ministry of Internal Affairs as well the People's Deputy of Ukraine Igor Mosiychuk.

It is known that Sergey Chebotar is Oleksandr Turchynov's person. Chebotar became deputy minister after department was headed by Arsen Avakov in February, 2014.
We will remind as earlier it was reported, the deputy minister of internal affairs of Ukraine Sergey Chebotar was accused repeatedly of corruption and demanded from Arsen Avakov to dismiss him. In particular, the People's Deputy of Ukraine Nikolay Tomenko addressed in That checked the Prosecutor General's Office Chebotar on participation in sale of positions in structure of the Ministry of Internal Affairs of Ukraine and its regional bodies. However, prosecutor's office I decided not to open of criminal proceedings and not to check his activity for Chebotar.
On the eve of Avakov's appointment as the Minister of Internal Affairs for the second time in December, 2014 the head of fraction of party «Blok Petro Poroshenko» Yury Lutsenko demanded from it to dismiss Chebotar from the deputy minister's position, on what Avakov I declared that isn't going to dismiss him.