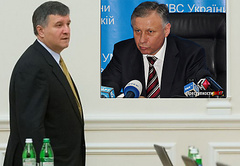 The Minister of Internal Affairs Arsen Avakov considers that proofs for criminal prosecution of his former deputy Sergey Chebotar aren't present.
He said it in interview «Ligabusinessifnorm».
- Chebotar. The created myth which with pleasure is twisted also by honestly mistaking people, and geeks from journalism. Why I accepted its resignation? Again - not because it was much told in process but because it allowed to provoke itself(himself) and to involve in scandal with journalists, - Avakov told.
- Further its civil law to assert the good name. But I will ask you a question: and what you can show to Chebotar really from all that sensation which was in the press? - he declared.
On the answer that journalists found information which, according to their data, confirms that the real estate specified in investigation belongs to it though it denies it. Avakov declared:
- Journalists share on qualified and unskilled.
- In this situation to the official it is shown that it is–his house. But it not his house. Aha, not yours, journalists speak. Then it is the house of your daughter. But it and not the house of the daughter of Chebotar. Then other version–it is the house of your son-in-law. We will allow–got. The requirement to dismiss Chebotar follows. Basis? He that, had to specify this house of the son-in-law in the declaration? I shouldn't, - the minister declared.
- And, speak, Chebotar protects transportations. Speak, Chebotar takes bribes for appointments. And still say that Chebotar steals sand. And such «still speak» I can provide a huge number in different editions. Farther some serious uncle comes and speaks: you know, speak about this Chebotare very much... Perhaps it is simpler to dismiss him? - he told.
Avakov noted that Chebotar directed shots of the Ministry of Internal Affairs.
- I carried out all lyustratsionny processes and dismissals as the chief of staff. I supervised material security of the Ministry of Internal Affairs. Including his hands made action under the name «EDAPS of wons from the Ministry of Internal Affairs».
- That Chebotar–public enemy of EDAPS and mister Gritsak,–it is the fact.And that behind a number of publications and promotion of these publications,–I don't claim that behind all,–there is this mister, for me–it is the obvious fact, - he added.
The Interior Minister emphasized that told Chebotar to leave because «it gave itself to provoke instead of opening to society and to tell everything as is: this my, is the son-in-law, it still someone».
- Instead it gave in to emotions, the son-in-law gave in to emotions. There was a fight or it wasn't who whom beat who where climbed over a fence–it is not my function to understand, it is function of prosecutor's office which understands now, - he declared.
- But the inadmissible situation disturbing to work was created. Not to force it, Chebotar resigned and is dismissed, - Avakov explained.
- And for what he has to be arrested? What someone except the objective informative press, made 20 more paid publications about it? By cumulative quantity? Not in fact? - he added.
We will remind, Chebotar resigned and it was dismissed after scandal : at Sergey Chebotar's house in the village Foresters attacked a film crew of ZIK TV channel. According to journalists, attacking were Chebotr's son-in-law Oleg Polishchuk and his business - a patner Sergey Gavrilko. However, according to the people's deputy Serey Sobolev, after dismissals Sergey Chebotar didn't leave anywhere, and became the adviser to the minister - sits in the same office and supervises the same questions, as well as before.
It is known that many accuse the deputy minister of internal affairs of Ukraine Sergey Chebotar of corruption and repeatedly demanded from Avakov to dismiss him. In particular, the People's Deputy Nikolay Tomenko addressed in The Prosecutor General's Office that that checked Chebotar on participation in sale of positions. At the same time, Avakov declared that isn't going to dismiss Chebotar suspected of corruption.
Also on the eve of Avakov's appointment as the Minister of Internal Affairs for the second time the head of fraction «Blok Petro Poroshenko» Yury Lutsenko demanded from it to dismiss Chebotar from the deputy minister's position.
Besides one more people's deputy from BPP Sergey Kaplin declared that that in office of the deputy minister of the Ministry of Internal Affairs Sergey Chebotar found «black accounts department» .
On May 13 in the Verkhovna Rada group of People's Deputies I registered the draft of the resolution on dismissal of the Interior Minister Arsen Avakov from - for scandal with Chebotar.