Two residents of Pervomaisk of the Nikolaev area decided to bring a variety carrying out the free time. There was no wish to walk around the city on foot to children and for full comfort they decided to get the car which was parked near one of high-rise buildings. About it reports TsOS Regional Department of the Ministry of Internal Affairs of Ukraine in the Nikolaev area.
The car VAZ of-2101 1974 of release wasn't equipped with the alarm system therefore special efforts with its stealing didn't arise. At first children traveled about around the city in search of adventures and when gasoline ended, decided "to cover up tracks". Sergey who since April was on conditionally - an early release, understood that stealing of a car is a crime for which commission the new imprisonment term can threaten it. But in prison the guy didn't want and he didn't think up anything better as sweep up traces of crime.
The way was enough "original". Guys decided to drown a car.
They откатали the car to a reservoir which is in the downtown, and, without hesitation, скатили "kopek" in water. Two weeks 56 - the summer owner of the car looked for the loss. To the man and to mind didn't come that someone needs his old "wet nurse" who needed for a long time capital repairs.
When there was information that car thieves are detained, it was necessary to find the disappeared car only. Malefactors long didn't admit the guilt, but professionalism of police officers didn't allow criminals to represent long from itself innocent. In some hours both pointed to a place of "flooding" of a car. The end to this history was put by employees of the Ministry of Emergency Situations who, using technical means, extended "kopek" from a reservoir.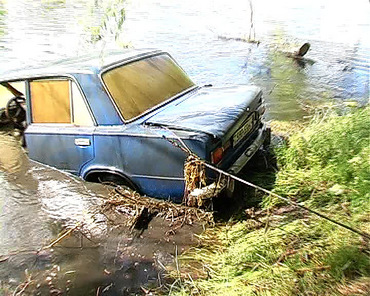 The car is returned to the owner, but from it it isn't enough happiness, after all after two-week stay under water the car isn't subject to restoration.
Sergey will fill up now the experience of stay in places of imprisonment and to its "workmate" too will have to answer.On a question, why was to heat the car if it could be left simply, the answer was given by Sergey. In his opinion, it there was the best way to clean fingerprints which they left on a crime scene.