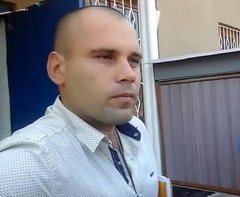 In Nikolayevshchina on October 4 the staff of management of internal security together with prosecutor's office has detained the 32-summer chief of office of police at taking of a bribe.
Have reported about it in department of communication of police of the Nikolaev region.
«The 32-summer police officer demanded and has received a part of a bribe for assistance in commission of illegal actions» , - there is a speech in the message.
The authorized searches within the criminal proceedings begun as regards the 3rd article 368 of the Criminal code of Ukraine are now carried out ( «Adoption of the offer, promise or obtaining illegal benefit by the official» ). The issue of the announcement of suspicion and election of a measure of restraint is resolved.
As "Преступности.НЕТ" from reliable sources in Department of internal security of National police of Ukraine became known, a detainee is the chief of the Nikolaev office of police, the major Alexey Spiridonov. According to preliminary data, a bribe he demanded for not attraction to criminal responsibility of the suspect of a crime.
Earlier the name of the chief of the Nikolaev office of police appeared in the conflict around the well in the village Petrovka when police officers under the leadership of Spiridonov allegedly have beaten two citizens.
The management of GUNP in the Nikolaev region after capture of the major Spiridonov on a bribe has published the statement on the official site of department.
«The management of Head department of National police of Ukraine in the Nikolaev region constantly holds events for prevention of commission by police officers of illegal actions. Each act which discredits honor and dignity of staff of law-enforcement structure deserves punishment and condemnation–such accurate position has to be a basis in office activity» , - it is noted in the message.
Let's note that in the Nikolaev District Department of Internal Affairs On March 5, 2015 deputy chief of the investigation of the Nikolaev regional department of militia (nowadays offices of police), the senior lieutenant was detained «on hot» –during receiving from the citizen of 50 thousand hryvnias of illegal benefit for «making decision on closing of criminal proceedings upon road accident and rejection of measures for withdrawal of the vehicle». As a result of this militiaman have sent for a lattice for five years.
Let's remind, in Nikolaev for extortion of a bribe recently have detained the senior lieutenant of Ingulsky police station and the manager of court of Ingulsky district who played a role of the intermediary.