On October 2 in Chernigov, at the railway station, in a man's toilet, I got stuck a hand in a toilet bowl 47 - the summer inhabitant of the regional center. It dropped there 200 hryvnias and therefore got up to an elbow into an opening to get money, however couldn't pull out a hand back any more. About it reports a press - service Ministry of Emergency Situations.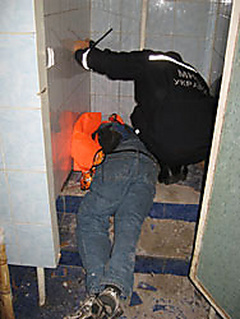 Carrying out rescue efforts became complicated small space in a booth of a bathroom and that the pig-iron toilet bowl was concreted and laid over by a tile.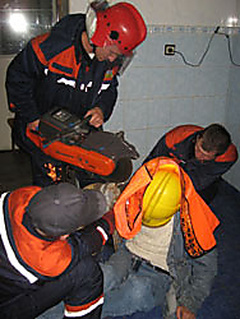 When nevertheless fighters of the Ministry of Emergency Situations hollowed a toilet bowl and cut off part of a drain pipe, there was a question how to remove this sanitary product from a hand of the person. Hydraulic scissors and petrolcut were used. Worked extremely carefully with an accuracy of millimeter not to hook on a hand. Rescuers carried out almost "jeweler" work, having released the person from an unusual trap, on what nearly 3 hours of time spent.