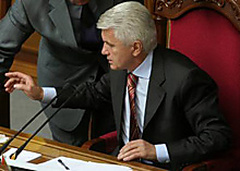 The chairman of the Verkhovna Rada Vladimir LITVIN connects the problems arising in treasury of Ukraine (with a delay of passing of monetary calculations etc.), that in the country there is no money.
As the correspondent of the UNIAN reports, he told about it today on a press - conferences in Donetsk.
"In this row - it is necessary to tell the truth because today to create visibility there back, carrying out actions, including on treasury questions, it is absolutely wrong, - the speaker told, - Yes, today I have to tell that such problem exists, but there is a visibility that, it seems, everything is good".
He specified that a problem that in the country, "certainly, money isn't present". According to him, today in the country "calculation very big on the International Monetary Fund". However V. Litvin reminded that "next year we need to pay on the credits - I think that I not much will be mistaken if I tell - 20 billion dollars, from them 2,3 billion dollars is the plain public debt, all the rest is corporate debts". The speaker stated the fears that "today it is necessary to be on guard, even it is more, than in both that it didn't turn out so that these corporate debts once weren't state".
At the same time V. Litvin noted that further events in a camp will give the answer to these questions. "But we will look as events will develop further, whether the law on social standards, for me will be signed it is the key moment", - the head of the Verkhovna Rada concluded.
As reported the UNIAN, in particular, blocking by managements of State treasury of transfer of means was declared recently by governors of areas.
"Delays or blockings in carrying out cash calculations of local budgets are rough violation from bodies of the State treasury as Constitutions of Ukraine, and financial discipline", - chairmen YEAH in the joint statement noted.
Besides, they emphasized, there is a question and where means of local budgets which really arrived into the Uniform treasury account got to. "If they are used on other purpose, than is established by the budget, then it is inappropriate use of budgetary funds that involves criminal liability", - is spoken in the statement.
Chairmen YEAH note that the problem is also that delays in transfer of means by bodies of the State treasury occur when it is necessary to begin a heating season and to carry out measures for repair of objects of the municipal sphere which have to ensure continuous functioning during the winter period.
Chairmen YEAH also report that the appeal to divisions of the State treasury of Ukraine in regions with the purpose to solve a problem of result didn't give.
In this connection they insist on consideration of an existing situation with implementation of payment orders of managers and recipients of means of local budgets at the closest cabinet council of ministers of Ukraine with participation of chairmen YEAH and with involvement of representatives of regional financial managements and managements of the State treasury.